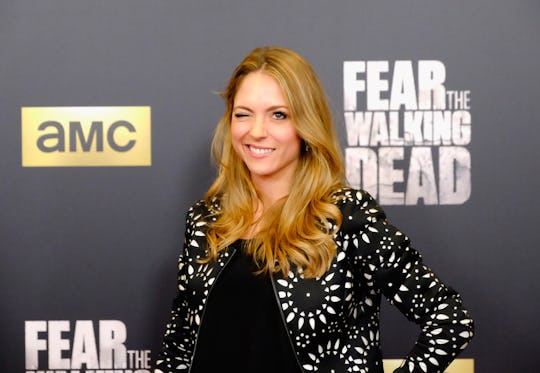 Frazer Harrison/Getty Images Entertainment/Getty Images
You'll Definitely Recognize The Star Of Hallmark's 'Jingle Around The Clock'
In the Hallmark Channel's Jingle Around the Clock, protagonist Elle Bennet is put in charge of a Christmas campaign at work that will determine the course of her career. In the process, she'll butt heads with colleague Max (and, let's be real, totally fall for him). Ahead of the movie's Dec. 22 premiere, you might want to get to know its cast a little bit better. In fact, you might be wondering: who plays Elle in Jingle Around the Clock?
Brooke Nevin will be taking the reins as Elle, alongside Michael Cassidy as Max. She's a veteran of Hallmark original movies, having previously starred in The Christmas Cure, On the Twelfth Day of Christmas, and Journey Back to Christmas. So, if you're a fan of the channel, then there's a good chance you've seen her before. But Nevin isn't only known for her success fronting Hallmark Originals.
Nevin has worked steadily as an actress since the late '90s, so she's built up an impressively lengthy filmography. She has over 80 credits to her name in film and TV, starting with some of the most beloved creepy kids' shows of the '90s. She appeared in episodes of Goosebumps, Are You Afraid of the Dark?, and Tales from the Cryptkeeper. She also played Rachel Berenson on Animorphs.
Nevin starred in countless TV movies throughout the early '00s, as well as popping up in Charmed, Smallville, Supernatural, and Everwood for a single episode each. She had regular roles on a few different series, including The 4400 and Chicago Fire, where she played Tara Little. Most recently, Nevin was in Quantum Break, Scorpion, Lethal Weapon (the TV series), and Carter. And that's really just the tip of the iceberg when it comes to wading through Nevin's IMDB page. She's seriously kept busy.
Nevin has a few projects lined up after Jingle Around the Clock, too. She'll be appearing in the science fiction short, The Enchantress of Number, as a futuristic spy and in the comedy TV show Peaked in High School. If you enjoy her performance as young advertising professional Elle, then you have a few projects to look forward to.
Back in 2015, Nevin had already been cast in a couple of Hallmark movies. She played a dance instructor in Come Dance at My Wedding, and a deliverer of long lost letters in Signed, Sealed, Delivered: From Paris with Love. While discussing her work in the film with The PC Principle in 2015, she explained why she felt Hallmark movies resonated with viewers so much.
"Hallmark is such a strong brand in that, when you turn on the Hallmark channel, you know what you are going to get," Nevin said. "You know there is going to be a story with strong emotional stakes. You know people are going to be striving to appeal to their better selves." She thought that appealed to audiences, as did the fact that these movies reminded people to come from "a place of love, strength and acceptance."
The happy endings of Hallmark movies drew viewers as well, especially during the holiday season. If you're looking for something positive to watch this Christmas, perhaps Jingle Around the Clock will fit the bill.
After a very frustrating first birth experience, this Deaf mother wanted a change. Will the help of two Deaf doulas give the quality communication and birth experience this mom wants and deserves? Watch Episode Four of Romper's Doula Diaries, Season Two, below, and visit Bustle Digital Group's YouTube page for more episodes.