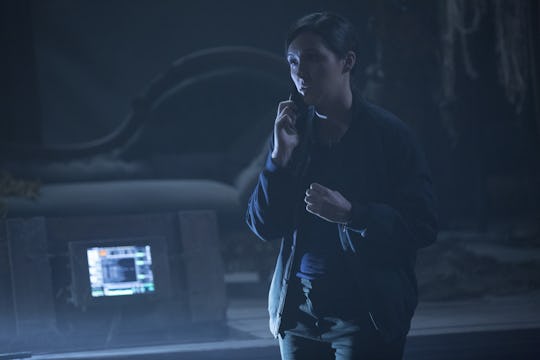 John P. Johnson/HBO
Who Plays Elsie On 'Westworld'? Shannon Woodward Is Perfect For The Role
There's a lot of reasons why Westworld has become everyone's newest obsession. The mysterious plot has sucked fans in, the scenery and cinematography is off the charts, the creepy but classical renditions of Radiohead songs impressed fans, and the various different theories have kept fans engaged, wanting to know what will happen next. More than anything, though, the amazing cast is what really brings Westworld to life. One star that deserves a lot of recognition is Shannon Woodward who plays Elsie on Westworld.
You may recognize Woodward from FOX's hit show, Raising Hope, where she played Sabrina Collins. Woodward has also played a variety of roles in different TV shows, including ER, Criminal Minds, The Riches, Law & Order: Special Victims Unit, and Psych. She also appeared in various films, including Search Party, Girlfriend, The Shortcut, The Comebacks, and Man of the House. And, of course, most recently, Woodward has been killing it on Westworld as Elsie but fans are worried last Sunday's episode may be the last they see of her.
From the very start of Westworld, Elsie has been curious about what was going on in the park. Despite Bernard's reassurance that nothing was wrong with the hosts, Elsie didn't stop searching for answers and last Sunday she finally found some. After investigating the body of the host that almost killed her before killing himself, Elsie discovered someone was using the host to transmit data from the park to the outside world.
Elsie then went to investigate further and ended up in an abandoned part of the park that gives off serious creepy vibes. Elsie ignored all signs that this is the last place she wants to be and found the secret computer that someone has been using. It turns out not only was Theresa the one stealing data from the park, but someone else, who the system recognizes as "Arnold" has been changing the hosts' systems so that they can lie to humans and/or kill them. Yikes!
Naturally, once Elsie made all these discoveries, whoever's behind these changes came from behind her and attacked. So is Elsie dead or has she just been captured? Is Arnold really still alive and did he take Elsie? Unfortunately, fans will just have to wait and see. Hopefully Elsie makes it out of this alive.