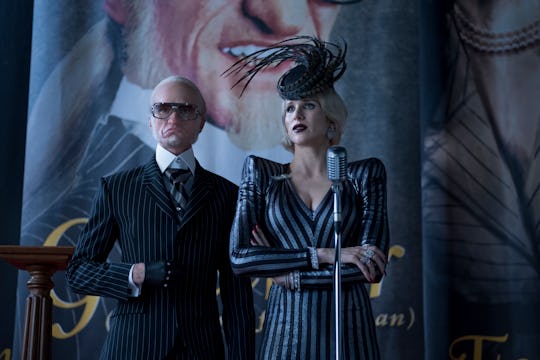 Joseph Lederer/Netflix
Esme Squalor Is About To Become Your New Favorite Character On 'A Series Of Unfortunate Events'
A Series of Unfortunate Events returns to Netflix for Season 2 this month and among the new crop of characters we're going to be introduced to is Esmé Squalor, a villainess who adopts the orphaned Baudelaire siblings but eventually joins Count Olaf's coterie of associates. The actress who plays Esme Squalor on ASOUE has a mile-long resume, so fans may find that she looks familiar. Lucy Punch has graced the stage, big, and small screens, so there are plenty of places viewers may recognize her from.
The 40-year-old British actress' most recent series regular roles were on the British sit-com Motherland and Fox's short-lived sit-com Ben and Kate. She also did a guest stint on The New Girl back in 2016. In the 2014 Into the Woods movie adaptation, Punch memorably played Lucinda, one of the two evil step-sisters, opposite Tammy Blanchard and Christine Baranski as the evil step-mother. She's widely known for her roles Ella Enchanted, Hot Fuzz, Bad Teacher, You Will Meet a Tall Dark Stranger, and Dinner for Schmucks. Punch even had some West End theater credits early in her career and made a return to the stage in 2014 for the Theater Royal Haymarket's production of Great Britain.
In ASOUE, she tackles the vain and materialistic Esmé Squalor, who fits right into Punch's knack for playing over-the-top bougie women. In a 2014 interview with The Guardian, she poked fun at her own type, saying, "If the character is smug, b*tchy, trashy, or has dubious morals, call me." Season 2 of ASOUE covers books five through nine, wherein we meet Esmé for the first time. Warning: book spoilers ahead.
She's fabulously wealthy, being both the sixth most important financial advisor in the city and an actress, and she's obsessed with fashion, status, and keeping up with what's "in." As it turns out, adopting orphans happens to be very "in" for the wealthy set where Esmé lives, so she jumps at the chance to adopt the Baudelaires when they've been bumped from yet another living situation in The Ersatz Elevator. Spoiler alert: adopting children as accessories does not make Esmé the world's most nurturing parent.
Of course, Esmé promptly falls in with Count Olaf when he learns where the children are living, and she becomes his girlfriend, even though she has a husband named Jerome back home (played by Veep's Tony Hale). She begins tormenting the poor Baudelaires over the course of the next book, The Vile Village, but Esmé eventually gets dumped by Count Olaf in The Penultimate Peril for being too self-involved. (The events of that book won't be covered in the show until Season 3, so presumably, Punch will stick around for the remainder of the series, which is an exciting prospect.)
ASOUE Season 2 already has a pretty impressive roster of guest stars. In addition to Punch and Hale, Castle star Nathan Fillion plays Lemony Snicket's brother Jacques, Popular alum Sara Rue plays a librarian, David Alan Grier plays Hal, the visually-impaired file clerk at the Heimlich Hospital, and Episodes' Roger Bart plays Nero, the vice principal at Prufrock Preparatory School, where the Baudelaires wind up enrolled. Get Out star and Girls alum Allison Williams also has a mystery role this season, but the show opted to keep her involvement with the series under wraps until the season drops, so we'll have to stay tuned to find out who she plays. A Series of Unfortunate Events Season 2 premieres on Netflix Friday, March 30.
Check out Romper's new video series, Romper's Doula Diaries:
Watch full episodes of Romper's Doula Diaries on Facebook Watch.