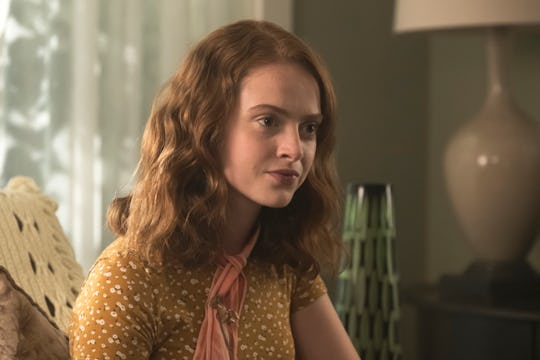 Katie Yu/The CW
Zoé De Grand Maison Joins 'Riverdale' As Evelyn Evernever
With Archie behind bars and Betty grappling with the creepy group wooing her mom and sister, it looks like Season 3 of Riverdale is going to be intense. Alice and Polly have joined a cult-like group called "The Farm," and they are actively trying to recruit Betty into their fold. The Farm's guru, Edgar, has a daughter named Evelyn, and she's being suspiciously nice to Betty. She might become the new villain this season, so who plays Evelyn Evernever on Riverdale?
Warning: Riverdale Season 3, Episode 2 spoilers ahead.
Evelyn Evernever is played by Zoé De Grand Maison. The Canadian actress has had a number of roles on film and TV, but you might recognize her from her most recent recurring role as Gracie Johanssen on Orphan Black. On Riverdale, De Grand Maison plays the daughter of cult leader, Edgar Evernever, and her intentions to befriend Betty are questionable to say the least. Evelyn's character was first seen in Little Archie comics as a slightly insecure girl who didn't quite mesh with the group. She was also featured in a few issues of Betty & Veronica Spectacular, where she ends up kidnapping Archie.
But Riverdale characters are much darker and more complex than the comics. A casting notice, as reported by ComicBook, described Evelyn's Riverdale version as odd and otherworldly and reads: "She's eager to befriend Betty, and is surprisingly insightful for her age, but may be hiding dark secrets about herself." The notice also featured a tidbit that may foreshadow a potential Single White Female vibe for her character: "While not required, a possible direction for the role is a girl who is physically reminiscent of Betty."
The series' creator, Roberto Aguirre-Sacasa, has revealed limited details about Evelyn's role this season. In a tweet last week, the showrunner described Evelyn as "Riverdale's newest student, always lurking in doorways, causing problems for Betty." Her motives are still unclear, but that's probably because the creators are trying to keep it a mystery. "Edgar runs the Farm and Evelyn is a big member of the Farm — And you definitely don't know what her agenda is," Aguirre-Sacasa told Seventeen at New York Comic Con. "As you'll see, some bad things start happening and it always seems that Evelyn is kind of lurking in the background of them."
On Episode 2 of Season 3, Evelyn is first seen at Riverdale High, where she introduces herself to Betty as Edgar's daughter. She reveals that she was at the Cooper home when Betty had a seizure (after seeing babies floating over a fire), and offers to keep the incident a secret. Later, as Jughead and Betty visit Ethel to ask her if she's really dating Ben, Ethel has a seizure and collapses. Betty rushes to help her, and as she looks up, she notices Evelyn glaring at them from across the room. While it still isn't clear if Evelyn had anything to do with Betty or Ethel's seizures, her ominous presence at the scenes hint that she may be up to something.
In a sneak peek for Episode 3, fans can see the Farm group's constant pull to recruit Betty. She is seen sitting in her living room with Alice, Polly, Evelyn, and other smiling Farm members around her. "We're here to talk about you," Evelyn tells Betty in a sweet voice. "Tonight can be your first testimony." Betty looks noticeably shocked at Evelyn's words, but fans will just have to wait and watch the entire episode to find out if she actually takes the emotional bait.
New episodes of Riverdale premiere Wednesdays at 8 p.m. ET on the CW.