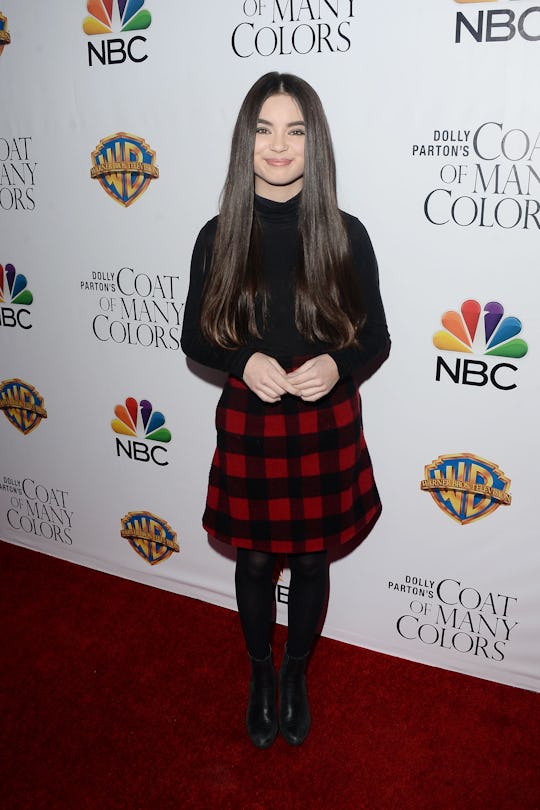 Matt Winkelmeyer/Getty Images Entertainment/Getty Images
Get To Know Rocki From 'Fuller House' Season 3
Warning: Season 3 Episode 1 spoilers ahead! In the first episode of Fuller House Season 3, Jackson is sent away to summer school and gets bullied by a classmate named Rocki, who turns out to be the daughter of Gia, played by Maria Sokoloff. Gia used to be the longtime friend/nemesis (fremesis?) of Stephanie Tanner. Oh, what a small world, right? So who plays Gia's daughter Rocki on Fuller House? I'm already a huge fan, if I'm being honest.
Rocki is played by Landry Bender and you might remember her if you've been watching family-friendly TV for the past few years. She played Cleo Bernstein in the Disney XD series Crash & Bernstein and Blithe Pedulla in the 2011 film The Sitter. She's also appeared in Best Friends Whenever, The Fairest of the Mall, and the upcoming film A World Away, among other TV and film roles. Fuller House might be the biggest role yet, though, for the Chicago native.
The 17-year-old is obviously on her way to bigger and better things all the time. Although she's playing a next generation character on Fuller House, Bender is also a huge fan of the original and felt right at home on set with the rest of the cast.
In a recent interview with Prune, Bender had nothing but good things to say about her time on the show:
All the references and all of the jokes, I got them immediately. It's a really great show and very much a family show. Walking onto set, they're like a family in real life too.
But of course, Bender said, she was a little bit nervous. Not because she's not a pro, but because of how storied the series is. "That has been really fun, and the cast is amazing, they've been very welcoming," she said. "It's the kind of show where it had such a legacy behind it, so I was intimidated at first."
So far, she seems to be fitting right in. And she has a great character to play, too. Gia always brought mischief with her when she showed up on-screen (even during her appearance last year on Season 2 when Steph tried to put her band back together). Her daughter Rocki seems no different. She's already trying to help Jackson out in summer school — and give him a hard time in the process. Who knows what they'll be up to by the time the season is through. Do I smell a love interest for young Jackson?
Whatever happens to her character on the Netflix series, Bender will likely be totally fine. At just 12 years old — and after playing Cleo on Crash & Bernstein for a little bit — she said the best part of being on set was getting to go way behind the scenes.
During an interview with BSC Kids back in 2012, Bender admitted that her favorite part of being an actress was, "sitting with the producers and writers while they're creating the shows." She added, "I would definitely love to work behind the scenes soon, I love the process and everything it takes to make the show come together." This has stuck with her, for sure.
But ending up on the set of a hit Netflix show is not a bad way to pursue her Hollywood dreams. Whether she keeps playing Rocki or snags another great role, there's no doubt that Bender will be a more familiar face in no time.
Watch Romper's new video series, Romper's Doula Diaries:
Check out the entire Romper's Doula Diaries series and other videos on Facebook and the Bustle app across Apple TV, Roku, and Amazon Fire TV.