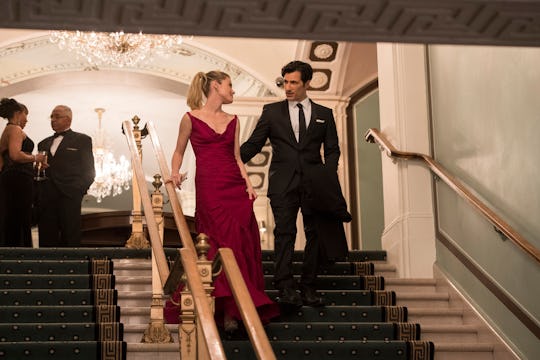 David Giesbrecht/Netflix
Griffin Sinclair From 'Jessica Jones' May Look Very Familiar To 'Dawson's Creek' Fans
The new season of Netflix's Jessica Jones is totally worth the wait, if only for the slew of new characters that we get to know. Especially Griffin, Trish's new boyfriend. But who plays Griffin Sinclair on Jessica Jones and where have we seen him before? If he looks familiar, there's a very good reason, though this role will likely catapult him into "superstar status."
Griffin is played by Hal Ozsan, a Turkish actor who was born in Cyprus and then grew up in London. In addition to his acting credits, he's also a screenwriter and the coproducer for What Would Diplo Do? for Viceland. Some of his longest running roles were on Kyle XY, 90210, and Dawson's Creek, but he's had one to three episode arcs on a whole host of shows, like Suits, Code Black, Bones, Supernatural, True Blood, White Collar, Californication, and many more. He's also done a few films, like the made for television Helter Skelter Caffeine, Redline, For Love of the Money, and a few others. So he works hard and he works all the time, it seems.
Ozsan came into acting in a roundabout way. He told NerdProbs.com, "I never set out to become an actor. I was far more interested in other things — writing, painting, music — acting was just a way making a living without ever having to get a real job."
He added, "But over the years, learning my craft on set, working with some extraordinary actors, witnessing the magic that can happen playing pretend in front of the camera — one day it just fit. Now it's a calling."
He really fits into the whole Marvel, Jessica Jones universe, and it might be because he loves these kinds of projects: Psychological thrillers. He added in the same interview:
I love this genre. In any medium. Jacob's Ladder is near the top of my top ten movie list, and frankly I'd read a cocktail napkin if Philip K Dick wrote it. I mean… This is the "juice" right? The basic question our species has been asking since the dawn of time: "What is reality?" What's not to love?
That's not to say that he didn't enjoy being on Dawson's Creek, playing Todd Carr. He told Teendramawhore.com:
The good stuff, the "juice" of acting, is getting to do and say things you'd never dream of doing and saying in normal, civilized company. But Todd, bless him, was shameless. Case in point… Todd, to Dawson [James Van Der Beek]: "You're mom's quite tasty, Leery. Mind if I have a go at her?" [Episode 6.10, Merry Mayhem] You think it, but you'd never say it. So, needless to say, that was one of the most enjoyable gigs I've ever had the pleasure of doing.
You totally forgot about Todd Carr, didn't you? And he's still friends with the cast. "James [Van Der Beek] is still one of my best mates to this day and we live right up the street from each other," he stated in the same interview. "Michelle [Williams] is and always will be profoundly dear to me, and I also still see the lovely Busy [Philipps, ]and Kerr Smith, from time to time too."
But whether it's playing the sweet (but possibly too good to be true) Griffin on Jessica Jones or a teenage playboy on Dawson's Creek, Ozsan is definitely a face and name you remember. And I have a feeling that after his time as Griffin, his fame will only become more prominent from here.
Check out Romper's new video series, Romper's Doula Diaries:
Watch full episodes of Romper's Doula Diaries on Facebook Watch.