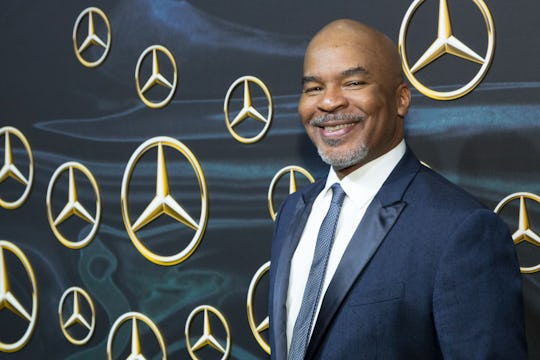 Greg Doherty/Getty Images Entertainment/Getty Images
This Guest Star On 'A Series Of Unfortunate Events' Is A Comedy Legend
Warning: Season 2 Episode 7 spoilers ahead! The three Baudelaire siblings have been jumping from place to place throughout Season 2 of A Series of Unfortunate Events, and each setting brings its own obstacles. Along the way, the kids have met a wide range of new people, some of whom are helpful and some of whom are decidedly not. Many of the supporting roles have been filled by some very familiar character actors, and that includes record-keeper Hal in "The Hostile Hospital." But who plays Hal on A Series of Unfortunate Events?
He's someone you might have known at a glance because he's been in so many things, though there's always a chance his elaborate glasses obscured his face just enough to keep you from recognizing him. David Alan Grier plays Hal, who is one of the kinder figures that Violet, Klaus, and Sunny come across in their journey. He's in charge of the library of records at Heimlich Hospital, which is known not only for the medical records they keep on hand, but their vast amount of stored knowledge about everything from puddings to pyramids. That makes it the perfect place for the Baudelaires because there's so much they want to know.
But as well-meaning as Hal is, he's not interested in learning information, just hoarding it. He keeps all the filing cabinets locked up and doesn't allow anyone to peruse their contents, leaving the children with a moral quandary on their hands. They've got to betray his complete and utter trust in them so they can steal his keys and read his records.
It might be hard to care about that betrayal when it's being done to a character the audience only just met (especially when you've been on the Baudelaires' side from the start), but Grier imbues Hal with characteristic charm. There's also a built-in connection between audience and character because viewers have seen Grier in so many projects before.
The bio section of his official website lists Grier's many accomplishments, which span several forms of media: he's worked in theater, television, film, and comedy, earning accolades across the board. He's pretty much done it all. After studying Shakespeare at Yale and graduating with an MFA from the Yale School of Drama, Grier starred as Jackie Robinson in The First on Broadway.
He was nominated for a Tony for playing Robinson, which would be the first of three Tony nominations. He has also been nominated for a Grammy Award, and won the Golden Lion for Best Actor in 1983 for his role in Streamers. It was his film debut. Grier has had a successful career from the start, particularly when he moved into television and comedy. He appeared on A Different World but perhaps made the most impact as a cast member of the iconic sketch show In Living Color.
With over a hundred acting credits to his name just on IMDB alone (not counting theater!), Grier has likely been in something you've seen. Recently, he's taken part in two live television musicals: NBC's production of The Wiz and FOX's A Christmas Story Live!. He co-starred in The Carmichael Show and appeared in The Big Sick, and he's got several upcoming projects as well. After taking on the much too trusting Hal on ASOUE, Grier will be in the TV movie The Cool Kids, plus feature films Sprinter and Arizona.
Lots of talented comedic actors have found their way onto ASOUE, and Grier is a welcome addition to the cast. Hal might not be so fond of the Baudelaires after finding out they double-crossed him, but hopefully the characters will be able to make amends some time in the future. Viewers definitely wouldn't mind getting to see Grier again.
Check out Romper's new video series, Romper's Doula Diaries:
Watch full episodes of Romper's Doula Diaries on Facebook Watch.