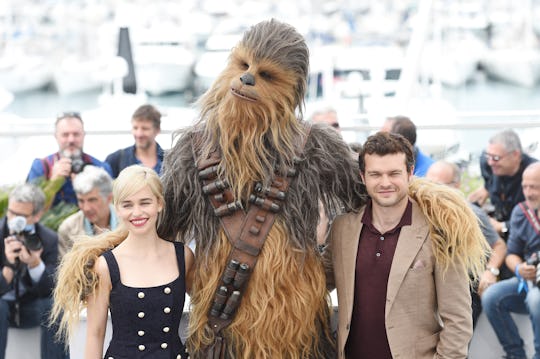 Antony Jones/Getty Images Entertainment/Getty Images
Everything You Need To Know About Who Plays Han Solo In 'Solo: A Star Wars Story'
There are never enough Star Wars movies, which is why this summer's Solo: A Star Wars Story is definitely bound to be a blockbuster. But although the characters are pretty familiar in this prequel, the actors aren't as much. So, who plays Han Solo in Solo and where have you seen him before? In a couple other projects, actually.
Alden Ehrenreich plays the young Han Solo in this film which takes place in the time period right after the prequel trilogy and at the beginning of the original trilogy. Ehrenreich has had small roles in a bunch of films, going all the way back to 2005, so he's been in the business for some time. Some of the movies you might have seen him in include Beautiful Creatures, Hail Caesar, Rules Don't Apply, and Blue Jasmine, among others. This is probably the biggest platform he's had yet though, so prepare to see a whole lot more of him going forward.
And probably in more Star Wars movies, according to a profile in Esquire. Alex Pappademas wrote of his interview with the actor, "I ask Ehrenreich how many [Han Solo films] he's signed up for. 'Three,' he says, then flinches, understanding he may have just created a disturbance in the Force. 'I don't know if that's officially, uh, public. But—yeah.'" So get used to him now.
The films original directors, Phil Lord and Christopher Miller (who were eventually replaced by Ron Howard during filming) told Esquire that Ehrenreich was a frontrunner for the role of Han Solo from the very beginning, especially because they felt that he would pull it off and not just try to mimic Harrison Ford or something. Miller told the outlet:
An impression of Harrison Ford would have felt like an extended Saturday Night Live sketch. We wanted someone who could evoke the spirit of the iconic performance we all remember while bringing something new and fresh. We talked a little bit about how Chris Pine, playing Captain Kirk, didn't do a Shatner voice, and brought his own spin to the character while still evoking the vibe of the character. We felt Alden did the same with Han Solo.
Lord added, "He felt classic and contemporary all at once. He seemed like a tough guy who was really scared." And most importantly, he did really well during a screen test with Chewbacca, which should be on everyone's #LifeGoals list.
Some Star Wars fans were not thrilled with Ehrenreich when news spread that Lord and Miller were being replaced. Rumors started to spread that it was him who had made the call to the studio to get them out of there. He swears it wasn't him and that none of the rumors are true, as Indiewire reported. Ehrenreich added that he couldn't see himself doing something like that "unless people were being put in danger or something." So if you're holding a secret grudge against him and the movie, don't. It was all out of his hands.
If you're still doubting Ehrenreich, take it from a guy who knows Han Solo more than anyone: Harrison Ford. According to a report in Variety, Ford has seen the movie twice and called Howard to rave about it. "I had never heard Harrison effusive about anything, and he was raving about it. He said, 'Alden nailed it. He made it his own,'" the director told the publication.
Ehrenreich, a Los Angeles native who was discovered by Stephen Spielberg at a bat mitzvah, according to Us Weekly, said that he was overjoyed when he learned he got the part in Solo. He said that he couldn't tell anyone for months since the movie was still a secret. Ehrenreich added, "I didn't cry. I was just so overjoyed, so excited. But everyone I knew was at work so I didn't know what to do and I couldn't tell anyone because it was a secret."
At least now, the cat's definitely out of the bag about how good Ehrenreich is as Han Solo. So get used to him now, because there are likely a lot more leading roles in his future.