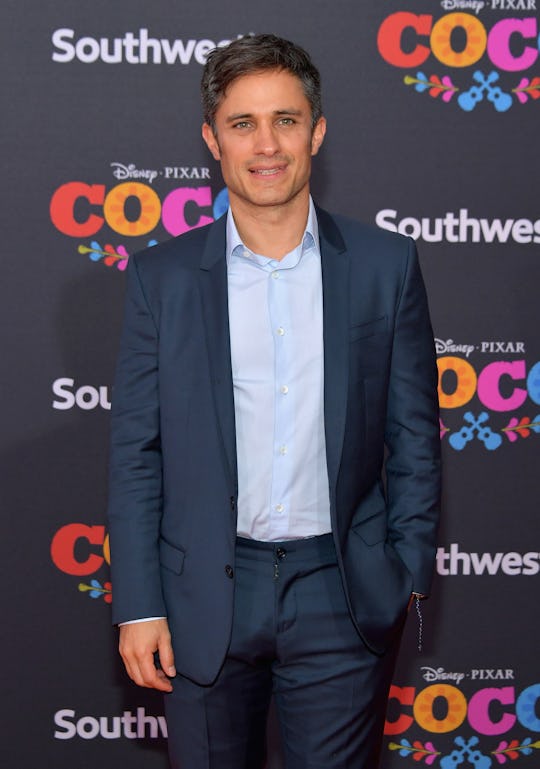 Neilson Barnard/Getty Images Entertainment/Getty Images
Who Plays Hector In 'Coco'? Gael García Bernal Is Pretty Incredible
On Wednesday, Disney-Pixar premiered the animated movie Coco in the United States. The film, which was first released in Mexico back in October, generated a lot of buzz and it has received rave reviews from film critics. Given all the love for the movie, it's understandable that fans have a lot of questions about the project's impressive cast of voice actors, including the actor who plays Hector, one of the main characters in the movie. So, who plays Hector in Coco? It turns out he's a very accomplished and caring guy.
In December 2016, the longtime actor Gael García Bernal signed on to play Hector in Coco, according to IndieWire. If you consider yourself a fan of Bernal, you might be surprised that he took the gig — he typically stars in critically-acclaimed dramas that are geared towards adults. Bernal's notable credits include, but are not limited to, Babel, Mozart In The Jungle, and The Science of Sleep. Throughout the past decade, Bernal has earned a reputation as a dedicated and extremely talented actor, especially in his home country of Mexico.
As for why Bernal decided to star in a movie for kids, it might be partially because he has two children, 6-year-old Libertad Bernal and 8-year-old Lázaro Bernal. Now that you have a little taste of who Bernal is, here are five more fun facts about the actor.
He's Proud To Be Mexican
At the Nov. 9 premiere of Coco, Bernal delivered a powerful statement on the movie's message. Not only did Bernal dedicate the film to children with cultural ties to Mexico and Latin America, but he also blasted the narratives that paint Latinx people as "rapists, murderers, and drug traffickers." Bernal said, according to Variety:
I want to dedicate this film to all the children who have ancestors from Mexico and Latin America. In this moment, these kids are growing up with a lot of fear because the established narrative says that they come from families that come from rapists, murderers, and drug traffickers. We are such a complex and profound culture, and these kids need to be empowered to stand up and say that what is being said about them is a complete lie.
And in September, Bernal partnered with Diego Luna to support the victims of the devastating earthquake in Mexico. The campaign reportedly raised thousands of dollars towards relief efforts.
He Is Separated From His Longtime Partner
Although Diego tends to keep a low-profile when it comes to his dating life, fans do know that he is no longer with the mother of his two children, actress Dolores Fonzi. The two reportedly split in September 2014 after seven years of dating, according to the Daily Mail, yet it's not clear what caused the breakup. As for who Bernal is dating now, that is also unclear. Maybe Bernal actually likes to keep his private life private.
He's Very Dedicated To His Kids
It's no secret that Bernal loves being a parent, and the actor regularly gushes about #DadLife in interviews. Bernal said of parenting his kids, according to People:
I think everyone who becomes a father or becomes a mother goes through this change of priorities ... it's a difficult thing to explain because it's such a complex thing, and yet it's so simple. So the best way I can explain it is, finally there's someone more important than me that I have to consider.
He's Not A Fan Of President Donald Trump
Throughout Bernal's career, he has taken on movies that explore important issues, like immigration, for example. Therefore, it should be no surprise that Bernal is very passionate about the current political climate in the United States. Bernal said of Trump's presidential win in November, according to the NewStatesman:
It's f*cked up. I feel emotionally blackmailed, betrayed. Now we can say, there is a lot of racism, classism, xenophobia, fear of the other, in the United States. It is not the country that they have always manifested themselves to be, which are the 'good guys' of the movie. It's not like that anymore. If you compare it even to Berlusconi or to Hugo Chavez in terms of populist movements, Donald Trump is ten times the caricature of them. It kind of puts things into order, in a way. The United States is not that 'Leader of the Free World' anymore – how they wanted to see themselves.
He's A Golden Globes Winner
In 2016, Bernal won a Golden Globe for his performance in Amazon's Mozart in the Jungle. Although Bernal is an extremely talented actor, he was admittedly surprised by the win. Bernal said of snagging the honor, according to TIME:
Honestly, I wasn't expecting it. I felt like it was a very long shot, to be realistic. Obviously, the show has been getting really nice life, organically, with people recommending it to other people. It's a very different part of the world, and little by little has been getting its own gravitational pull, but it's very hard to measure these things. Whomever I met that saw the show told me really good things—but I didn't know how these things work. When the show won, I couldn't stop laughing, because there's an aspect of ridiculousness to all of this. Not in a bad sense, but in the sense of incredulity, complete and absolute awe. And then when they announced my name, everything became slow motion. It was incredibly surprising: I couldn't understand how, when, why.
By the looks of it, Pixar-Disney couldn't have picked a better actor to play Hector. Bernal has led an impressive life on and off screen, and he appears to be a great role model for young kids.
Check out Romper's new video series, Romper's Doula Diaries:
Watch full episodes of Romper's Doula Diaries on Facebook Watch.