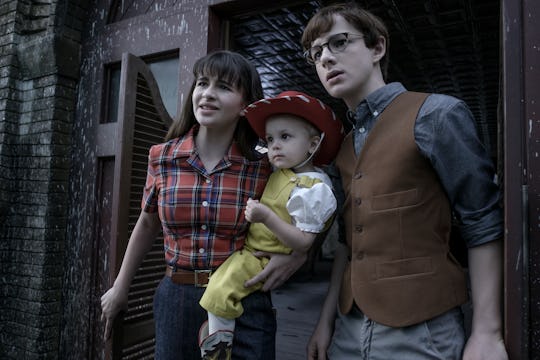 Eike Schroter/Netflix
Hector From 'A Series Of Unfortunate Events' Is An Expert At Physical Comedy IRL
Warning: Season 2, Episode 6 spoilers ahead! When the Baudelaire children find themselves deposited in the town of V.F.D. on A Series of Unfortunate Events, it seems like once again they will be left without allies. Thankfully, the village's handyman Hector proves unexpectedly kind, if a little fearful, and the actor portraying him manages to bring real warmth to the role. But who plays Hector on ASOUE? Even if he wasn't recognizable at first glance, there's a good chance you've seen Ithamar Enriquez in something before.
Violet, Klaus, and Sunny lived with Hector while they were staying in town, which ended up being one of their few strokes of luck. Though Hector had a habit of fainting every time he got too emotionally overwhelmed, he genuinely cared about the kids and wanted to help them. He was also OK with breaking some of V.F.D.'s many, many rules, as long as it was in secret. He built himself a self-sustaining hot air mobile home to escape in, stocked with delicious treats and a library of books. He managed to leave town in Episode 6, but hopefully this won't be the last of Hector, because Enriquez proved to be a very nice addition to the cast.
According to IMDB, Enriquez was born and raised in El Paso, where he graduated from Del Valle High school. He went on to study musical theatre at Arizona State University and soon found himself embracing comedy by joining the Second City touring company. In his bio on the Second City site, it explains that Enriquez was both a performer and writer for the group, though he also worked with the improv teams Tres and Delicious Moments.
In 2014, Enriquez earned praise from LA Weekly and other outfits for his silent sketch show Ithamar Has Nothing to Say, in which he used movement and expression to get laughs instead of talking. He cited Buster Keaton and Charlie Chaplin among his inspiration for the show, also telling LA Weekly:
People are uncomfortable with silence. Not just on stage but in life. We feel the need to fill that empty space with talking, even if we have nothing to say. Sketch comedy can be more than catchphrases, yelling at audiences and scenes about arguing couples in restaurants.
Those physical comedy skills definitely came in handy when capturing the often-fainting Hector. The sketch show later became a web series with the same title after Enriquez signed a production deal with Keegan-Michael Key and Jordan Peele. Though some aspects of the series were adapted directly from the stage show, there were some differences too. Enriquez described it to Second City's site by saying:
It follows a curious, whimsical character as he experiences life without speaking. Frank Caeti (director of the live show) and I are writing and producing it along with Maker Studios, Principato Young Entertainment, and Key and Peele. Some of it is taken directly from the live show, and some of it has been written exclusively for the web series. This character experiences everything from a hipster coffee shop to a jazz club to his thoughts that wander when he's at a laundromat.
Enriquez still teaches at Second City, taking on a physical comedy workshop called Shut Up & Move. Those who admire his talents can get a lesson from the man himself, provided they're in the area and have the funds. When not on stage, Enriquez finds steady work in TV and film. His IMDB lists quite a few credits, from shows such as Arrested Development, Key and Peele, and Adam Ruins Everything (just to name a few) to movies Popstar: Never Stop Never Stopping and the Oscar-nominated Lady Bird.
If you enjoyed his performance on ASOUE, then you'll also be able to see Enriquez in the upcoming film The Oath and the mini-series Adult Stuff.
Check out Romper's new video series, Romper's Doula Diaries:
Watch full episodes of Romper's Doula Diaries on Facebook Watch.