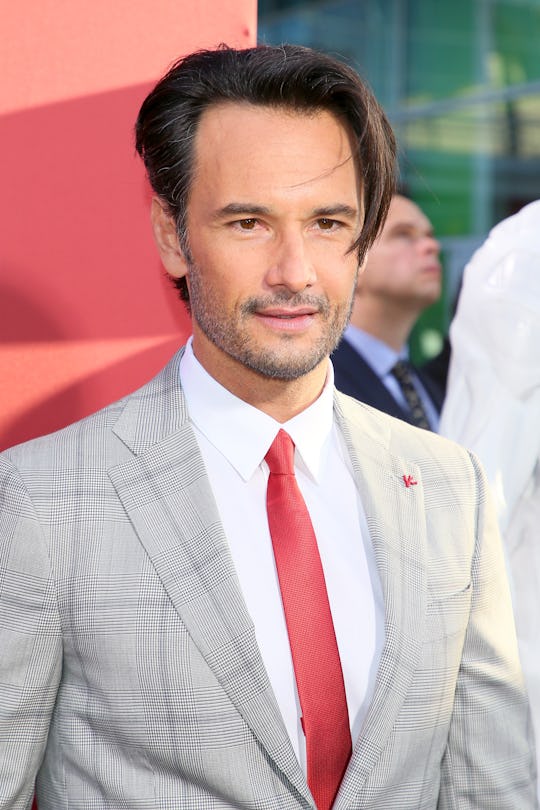 Jean Baptiste Lacroix/Getty Images Entertainment/Getty Images
Hector From 'Westworld' Should Look Very Familiar To Rom-Com Lovers
Westworld is finally back for a new season and the hosts are out for blood, which is totally understandable after all they've been through. One of those hosts is Hector, but who plays Hector on Westworld? You may recognize him from an iconic rom-com movie that becomes quite popular over the holiday season.
Brazilian actor Rodrigo Santoro plays the handsome cowboy host who has a romantic relationship with Thandie Newton's character, Maeve. Santoro has had a number of roles over his decades-long career, but the one he's probably most well known for is his part as Karl in Love Actually. If you don't recall, Karl was the man Sarah (Laura Linney) had a serious crush on. The duo ended up going home together after the office Christmas party, but because her brother kept calling her every few minutes, their hook up was interrupted and never continued throughout the rest of the film.
Many fans of the film still dislike Karl for not fighting for Sarah when she was obviously going through a rough time. Thankfully, the dislike for Karl as a character hasn't transferred over to Santoro, who seems like a great guy and a fantastic actor. Besides Love Actually you may recognize Santoro from the movies Charlie's Angels: Full Throttle, Owner of the Story, 300, Redbelt, Lion's Den, I Love You Phillip Morris, Post Grad, What to Expect When You're Expecting, The 33, and 300: Rise of an Empire. He also lent his voice to the Rio films.
As for his TV work, Santoro actually starred in the hit Brazilian TV show Women in Love as Diogo Noguiera. The series had over 200 episodes. He's also appeared in the series Today is Maria's Day, Lost, Sound & Fury, and Old River.
When it comes to Santoro's personal life, it's hard to get a read on him. He doesn't have a Twitter account and his Instagram is filled mostly with photos and videos of his press stops. That being said there are some notable things to be found about the actor. He can speak in Portuguese, but for his role in the Cuban film, Un Traductor, which came out this year, Santoro also had to perfect his Spanish and a Cuban accent. He also had to learn Russian.
In a recent interview with Variety, Santoro opened up about hopefully finding more of a balance between his career and personal life so he can "spend some quality time with my family... and keep working outside of Brazil." Obviously Santoro is a family man, but he's also keeping quite busy with his work. Santoro is now recognized as one of the most high profile Latin American actors in Hollywood and definitely one of Brazil's biggest actors everywhere.
Though he may be more busy than he likes, it's for good reason. Santoro is becoming more and more well known for his accomplishments onscreen and fans have fallen in love with his character, Hector, on Westworld. Hopefully fans will get to see even more of Hector this time around, especially now that it looks like Maeve will need his help in order to find her daughter.
The new season of Westworld will definitely be quite different than the first with the hosts uprising against the humans, but it should be interesting to see how Hector fits into everything. In the first season he was known as the bad guy, or the outlaw, but the way he helped Maeve in the end seemed to indicate he's one of the good guys. Perhaps we'll see him growing even closer to Maeve this season and developing a deeper relationship.
You can find out what's next for Hector when Westworld Season 2 premieres on Sunday, April 22 at 9 p.m. ET on HBO.
Check out Romper's new video series, Romper's Doula Diaries:
Watch full episodes of Romper's Doula Diaries on Facebook Watch.