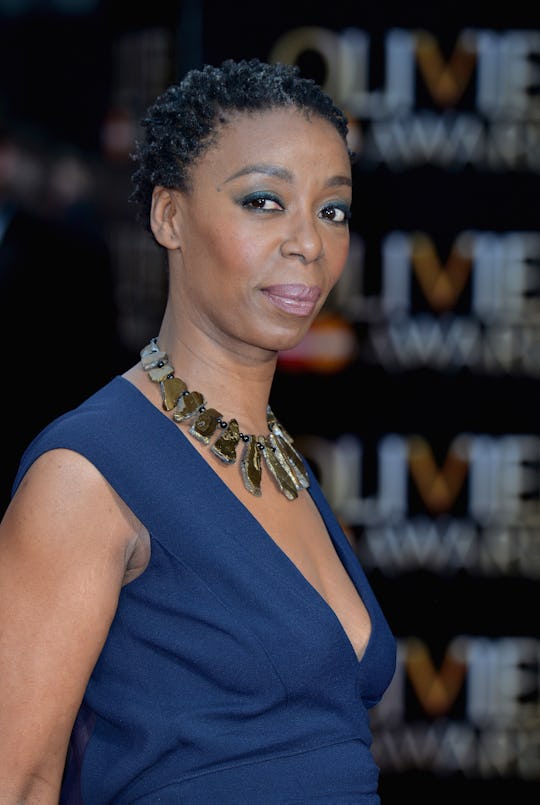 Anthony Harvey/Getty Images Entertainment/Getty Images
Who Plays Hermione In 'Harry Potter & The Cursed Child'? Your Favorite Witch Is Back
The reviews for Harry Potter and the Cursed Child are in, and they are phenomenal. From the staging, to the story, and everything in between, audiences have been wowed by the latest installment of the Harry Potter series. Above all else, the actors that are bringing your favorite characters to life are being praised and lauded. Perhaps the most beloved by fans and characters, has been the casting of Noma Dumezweni, who plays Hermione in Harry Potter and the Cursed Child.
Swaziland-born Dumezweni, 45, is joined by Jamie Parker as Harry Potter, and Paul Thornley as Ron Weasley. Though Dumezweni previously won a best supporting actress Olivier award in 2006 for her role in A Raisin In the Sun, ait's the news of her casting in the eighth Harry Potter that has fans talking. Both J.K. Rowling and fans of the series are pleased by the casting.
But it hasn't been an easy road for Dumezweni. When the casting was announced in December 2015 on Pottermore, Hollywood Reported noted that fans were skeptical about the casting of Dumezweni. Additionally, ignorant fools were concerned about a black woman being cast for the role, which had been played by Emma Watson in the film franchise. However, Harry Potter's author J.K. Rowling quickly took to Twitter to squash any naysayers, and tell the world about her feelings on Dumezweni's casting.
In an article in Time, writer Sarah Begley suggested that the casting of a woman of color as Hermione wasn't entirely unexpected. Begley pointed to threads of debate on Reddit and Quora, pointing out not only details about Hermione's hair (frizzy and brown), but also that she's never specifically described as white. Seemingly, the only time Hermione's skin color is ever mentioned is during Harry Potter and the Prisoner of Azkaban, when her skin is described as "very brown" after a vacation. Many members of the Harry Potter community have wondered if Hermione Granger was written as a black or mixed-race character all along.
Rowling's approval of Dumezweni's casting is important not only for the play itself, but for the Potter universe as a whole. Adding diversity to a world so beloved by so many people around the world can only serve to lift up the world of Harry Potter, and create a welcome discussion surrounding the expansion of diversity in the cast of characters, especially one of the most important characters in the series. Even Emma Watson took to Twitter to silence any naysayers of the diverse casting of the show.
Personally, I can't wait to see Dumezweni's take on the adult version of the icon I grew up with. Unapologetically feminist, outrageously smart, and defying all odds, Hermione Granger is a force to be reckoned with. And with a resume full of incredible roles, and her stunning directorial debut this past February, I suspect Dumezweni will fill Granger's shoes perfectly.