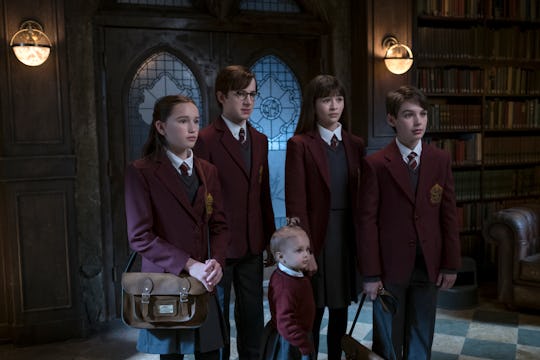 Joseph Lederer/Netflix
Isadora Quagmire Will Play A Pivotal Role In 'A Series Of Unfortunate Events'
A Series of Unfortunate Events returns to Netflix this month for its second season, which is set to tackle books five through nine in Daniel Handler's 13-book series. When we last left the orphaned Baudelaire children in Season 1, they had just arrived at Prufrock Preparatory School, along with two students who bore an uncanny resemblance to Violet and Klaus. Book readers will recognize them as Isadora and Duncan Quagmire. So who plays Isadora Quagmire on ASOUE? Avi Lake is poised for a breakout role in her first series regular gig.
The 14-year-old actress is an Austin, TX native who began acting around age 4 and made her film debut at age 6. She's already had some movie roles opposite impressive talent (Samuel L. Jackson and Christopher Lloyd get special shoutouts in her IMDB bio), and did a crossover role on Chicago P.D. and Chicago Fire back in 2014. According to IMBD, Lake will appear in all eight episodes of the new season of A Series of Unfortunate Events, which marks the first time she's had a recurring role on a TV show. And by the looks of her Instagram account, she's already super close with her castmate and on-screen triplet brother Dylan Kingwell, who plays Duncan. One particularly adorable video captured by her mom shows the pair being gifted some really sweet fan art and their appreciation is infectious.
Lake is joined by some big name guest stars in Season 2. Veep's Tony Hale jumps in to play Jerome Squalor, Nathan Fillion plays Lemony Snicket's brother Jacques, Sara Rue plays a librarian, and Get Out star and Girls alum Allison Williams joins the cast in a mystery role! The series is keeping the details of her involvement under wraps, but we definitely know she'll play a part.
The Quagmires enter the story at a crucial moment, right after Sunny, Klaus, and Violet have been dropped off at boarding school. They also happen to have the coordinating piece to Klaus' spyglass because, as it turns out, their parents were members of the same mysterious organization as the Baudelaire parents. Even more mysterious? Both the Quagmires' parents and the Baudelaires were killed in a house fire. The Quagmires, too, are inheritors of a large collection of sapphires, so Olaf is after their fortune as well. Obviously, the kids have a lot in common and a ton to bond over. Warning: book spoilers ahead!
In the books, the Quagmires provide a modest ray of sunshine in an otherwise dark and dismal series. Of course, we know their friendship can't last because, well, this is a series of unfortunate events after all. At some point, the villainous Count Olaf shows up disguised as the Prufrock Prep gym teacher. He winds up successfully kidnapping the Quagmires and the Baudelaires are left to solve the mystery of their parents' death alone once more. As for the third Quagmire triplet? Quigley Quagmire is presumed to have died in the same house fire that killed his parents, leaving Duncan and Isadora on their own. Hence the curious circumstance of two siblings being triplets.
Like each of the children in the story, Isadora has a special quirk that helps her through their unimaginable hardships: she's the family poet. She writes couplets which help her analyze the various dilemmas the children find themselves in and find a solution. She's also hinted to have a romantic interest in Klaus, so there's plenty of fun stuff for Lake to dive into when tackling this character. You can catch her on ASOUE when it drops on Netflix March 30.
Check out Romper's new video series, Romper's Doula Diaries:
Watch full episodes of Romper's Doula Diaries on Facebook Watch.