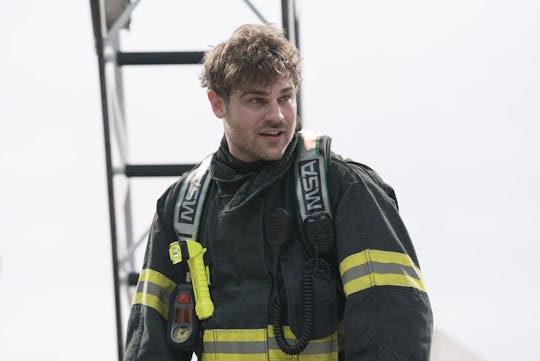 Mitch Haaseth/ABC
Jack Gibson From 'Station 19' Is Here To Fulfill Your Firefighter Fantasies
Although the new Grey's Anatomy spin-off, Station 19, will include a character or two from Grey's, the new series is really all about introducing new characters. One of those characters is Jack Gibson, who some viewers may recognize. So who plays Jack on Station 19? Grey Damon is here to fulfill all of your firefighter fantasies and he should also look very familiar.
The 30-year-old actor has been appearing on the small screen for almost a decade now, beginning with small roles on shows like 90210, Lincoln Heights, Greek, and 10 Things I Hate About You. He got his first recurring role on True Blood before getting a bigger part on Friday Night Lights as Hastings Ruckle. He then went on to nab a starring role in The Nine Lives of Chloe King, but the series unfortunately only lasted one season. Following that, he joined The Secret Circle, which again was canceled after its first season. Unfortunately, this became a regular occurrence for Damon who went on to star in Twisted, Star-Crossed, and Aquarius, all of which only lasted one or two seasons. However, Station 19 may be the turn around Damon needs, as the show definitely looks like it'll be a hit.
Besides his TV roles, Damon has also done a few films, including The Devil Within, Percy Jackson: Sea of Monsters, Old Boy, and Sex Guaranteed. He'll additionally be in Cadaver, which due out this summer.
When he's not busy working, Damon can be found hanging out with his cat, Butter, and his girlfriend, actress Alice Greczyn. You may recognize Greczyn from a number of TV shows, but notably Lincoln Heights and The Lying Game. It's unclear how long the couple have been together exactly. The earliest photo of the two of them together on Damon's Instagram account is from 2014, but it's possible they began dating when they were both on Lincoln Heights.
Regardless of how long they've been an item, it's obvious that they're totally into each other. The majority of the pictures on Damon's Instagram is of Greczyn and they regularly call each other their "Woman Crush Wednesday" and "Man Crush Monday," respectively. They also like to have fun together and regularly travel to places like Thailand. They've also signed up for dance classes together and visited art exhibits on their down time.
Besides that, it appears Damon is a pretty down to earth guy. He likes hanging out with his friends and he loves to shout-out his cast mates and show them support on social media. He appears to be an all-around good person, but can the same be said for his character?
In the trailer for the series, it appears Jack leaves the captain of the fire station, Pruitt Herrera, behind in a fire, which leads to Pruitt needing to go to the hospital. He then steps down as captain. To make matters worse, Jack appears to be dating, or at least hooking up with, Pruitt's daughter, Andy, so of course she doesn't appear to be happy with Jack in the trailer. However, everyone makes mistakes and just because Jack messed up that doesn't mean he'll be an antagonist on the new series. He'll just be a little complicated. Hopefully over the course of the season fans will get to know Jack more and learn what exactly happened during that fire.
You can meet Jack and the rest of the characters on Station 19 when the new series premieres on Thursday, March 22 at 9 p.m. EST, right after Grey's Anatomy. You won't want to miss this thrilling new series!
Check out Romper's new video series, Romper's Doula Diaries:
Watch full episodes of Romper's Doula Diaries on Facebook Watch.