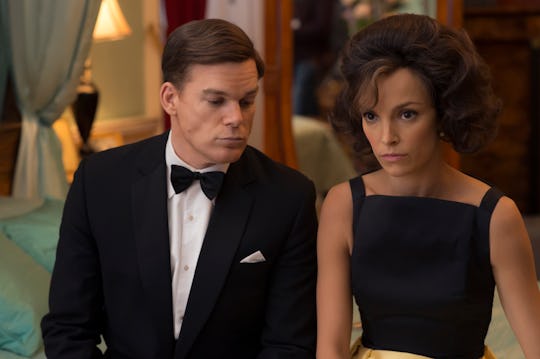 Alex Bailey / Netflix
Jackie Kennedy Makes A Memorable Debut On 'The Crown'
Although The Crown focuses on Queen Elizabeth and the British royal family, it shouldn't be surprising that other foreign dignitaries pop up in the series. In Season 2, which partially takes place in the 1960s, President John F. Kennedy and First Lady Jackie Kennedy make an appearance on the show. So who plays Jackie Kennedy on The Crown? Jodi Balfour tackles the iconic historical figure.
The South African actress is best known for her role as Gladys Witham in the Canadian drama, Bomb Girls, and the show's TV movie, Bomb Girls: Facing the Enemy. Balfour also had recurring roles in the miniseries The Sinking of the Laconia and The Best Laid Plans, as well as the series Tower Prep, Primeval: New World, and Quarry. Currently she's been starring in the UK cop drama, Rellik, as Detective Inspector (DI) Elaine Shepard, alongside Richard Dormer. Besides her TV work, Balfour has also had roles in a number of films over the years, including Final Destination 5, The Husband, Afterparty, Unearthing, Eadweard, and Almost Anything.
Right off the bat you can tell that Balfour was practically made for this role, perfectly stepping into Jackie Kennedy's shoes. If the photos and trailers for the show are any indication, her depiction of the famous First Lady is downright uncanny. Acting alongside her as JFK is Dexter star Michael C. Hall, who also looks impeccable as the late president.
It's unclear just how many episodes Jackie and her husband will be in The Crown for, but it most likely won't be that many, especially because JFK was assassinated in 1963. According to Deadline, in the series Jackie will be seen playing her role as the First Lady perfectly, though, as a shy woman she actually loathes public life. Differently, JFK feels most comfortable in front of a crowd and doesn't like to be upstaged by anyone, especially his wife.
Because he feels unmanned by his wife's popularity, in public he purposefully flaunts his many infidelities, and behind closed doors he manipulates Jackie and is often angry towards her. Of course, this isn't the picture perfect couple that is often portrayed in the history books, but The Crown has never been afraid to dig into the not-so-perfect pasts of various political leaders.
Unlike the first season of The Crown, which mainly focused on Elizabeth and her ascension to the throne, the second season will look more closely at the lives of the royals, particularly her marriage with Philip and the rumors of his alleged infidelities. Thus, it makes sense that the show would bring in JFK and Jackie, who also deal with similar issues though in much different ways. It'll be interesting to see how the two couples interact with each other, both while they're a foursome and in their private one-on-one conversations.
Will Jackie and Elizabeth bond over their husbands' alleged unfaithfulness? Will Philip and JFK find they have a lot in common? Or will Elizabeth and JFK be the ones to find common ground as two young leaders of formidable countries? Truly, this could play out in a number of ways. The show will also probably cover what happens after JFK's assassination and how it impacts Elizabeth as a queen but also just as a person, who knew JFK personally.
There's a lot that can come out of the addition of JFK and Jackie to the series and I'm excited to see how it'll all play out this season.
You can watch The Crown Season 2, which is now streaming on Netflix.
Check out Romper's new video series, Romper's Doula Diaries:
Watch full episodes of Romper's Doula Diaries on Facebook Watch.