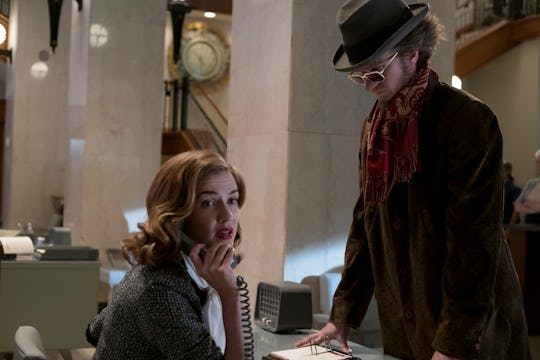 Joe Lederer/Netflix
There's More To Jacquelyn Than Meets The Eye
(Warning: this post contains unfortunate spoilers from Episode 2.) There's a lot of amazing characters in A Series of Unfortunate Events, but one that stands out is Mr. Poe's mysterious assistant Jacquelyn. So who plays Jacquelyn on A Series of Unfortunate Events? If you're a fan of The Vampire Diaries, you'll definitely recognize her. Sara Canning plays the role of Jacquelyn, and she's probably most well-known as Aunt Jenna on The CW hit series The Vampire Diaries. However, Canning has had various different roles over the years, both in films and on TV.
Prior to her role on The Vampire Diaries, she starred on the American spin-off of the hit U.K. TV series, Primeval: New World. After TVD, Canning appeared on different shows, including Republic of Doyle and Hell on Wheels, before snagging a starring role on the Canadian medical drama Remedy. As far as films go, Canning has appeared in I Think I Do, The Right Kind of Wrong, I Put a Hit on You, Eadweard, On the Farm, and Hello Destroyer. She will also be in War for the Planet of the Apes and Welcome to Nowhere, which are both coming out later this year.
For those of you who have read the book collection of A Series of Unfortunate Events, you may be wondering who Jacquelyn is exactly and why does Mr. Poe have an assistant? While Canning's character may seem like a new addition to the story, that may not necessarily be the case. Warning: book spoilers ahead!
It became clear early on that Jacquelyn was much smarter than her boss and knew the Baudelaire parents. Whatever secret society the Baudelaire parents were in, it appears as though Jacquelyn is a part of it as well. This leads me to believe that Jacquelyn is actually an on-screen representation of Jacques Snicket, a member of the secret society and the brother of Lemony Snicket.
Although Jacquelyn is female, the names seem much too similar to be a coincidence. Plus, in the novels Jacques was often searching for and attempting to help the Baudelaire children, something Jacquelyn has already started doing as well. It seems the TV series has interwoven Jacques into the story as Jacquelyn, giving the character a slightly bigger role in the show than in the books.
Personally, I like the new addition of Jacquelyn and think she adds a good dose of comedic relief in this endless series of unfortunate events. And hopefully as the season progresses, we'll come to learn more about her and how she'll fit into the narrative.