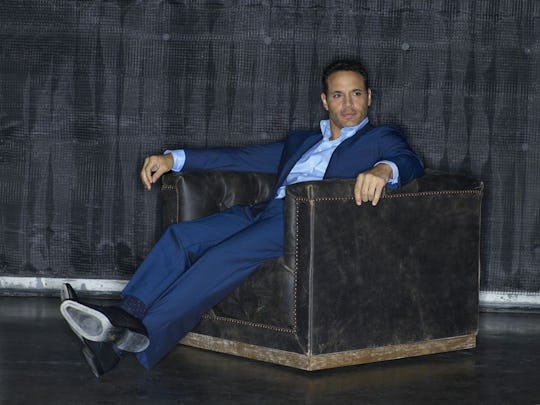 Bob A'mico/ABC
Who Plays Jake On 'Notorious'? Daniel Sunjata May Look Familiar
Get ready for your newest TV obsession! Filling in for Scandal until it returns next year, ABC's newest Thursday night drama, Notorious, follows the relationship between a defense attorney and TV producer who try to control the media and the justice system. Daniel Sunjata plays Jake on Notorious, the defense attorney who handles high profile cases, and he may look familiar. That's because Sunjata has been in the biz for a while. From Grey's Anatomy to The Devil Wears Prada, Sunjata has appeared in just about everything.
Notorious will not be the first TV show Sunjata has starred in. In fact, he's been on multiptle TV shows in his career and is not new to the small screen. Most recently Sunjata starred in USA's popular undercover FBI drama, Graceland, where he played the senior FBI agent, Paul Briggs. The show lasted three seasons before it was unfortunately cancelled last year. Before Graceland, Sunjata had a recurring role in Smash, where he played dramaturge, Peter Gillman, and had an interesting relationship with Debra Messing's character, Julia Houston.
Like most of Hollywood, Sunjata also had a recurring role on Grey's Anatomy as the nurse Eli Lloyd, who briefly dated Dr. Bailey before they ultimately broke up and Dr. Bailey rekindled her love for Ben. Before he was a nurse, Sunjata was a firefighter on FX's hit show, Rescue Me, and a Yankee superstar in ESPN's mini-series The Bronx is Burning. He also appeared in multiple episodes of Law and Order: SVU as a Crime Scene Unit Technician.
Besides his extensive career in television Sunjata has also appeared in a few movies including The Dark Knight Rises, Ghosts of Girlfriends Past, and The Devil Wears Prada. He's also set to appear in the new thriller movie, Small Town Crime, due out next year.
Sunjata's résumé is incredibly long and there's no doubt he's ready to take on this new role. We can't wait to see what he'll do as Jake but we're sure he'll be great. Make sure to tune into ABC on Sept. 22 at 9 p.m. EST to see Sunjata in his latest role.