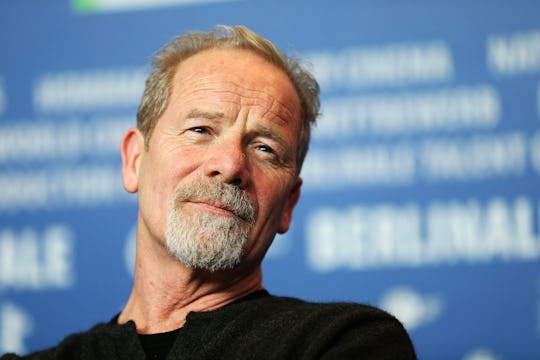 Sean Gallup/Getty Images Entertainment/Getty Images
James Delos Could Provide Helpful Insight Into History Of 'Westworld'
Though the first season of Westworld was mostly contained to the titular park, Season 2 is venturing out into the wider universe. That includes introducing new characters who might be very important. One such character is James Delos, founder of the company that has kept the park afloat financially for decades. But who plays James Delos on Westworld? Actor Peter Mullan is probably a very familiar face to many audience members.
James not only founded Delos, but is also very much enmeshed with characters the audience already knows very well. He's Logan's father and William's father-in-law, which means the corporate side of the storytelling is about to get even more personal in the second season. James has a featured spot on the Delos website as well that speaks to his desire to create a better world through his company. "[James] used to joke that where he grew up, having dreams was like fighting gravity," it reads. "But he never lost faith that his dream could take off, and now Delos is more than a name. It's a legacy."
James is definitely an intriguing character with an interesting position in the story. But what about the actor who plays him? There's a good chance you've seen Mullan in something before, because he's had a very long career.
Mullan hails from Scotland originally and grew up in Cardonald as the third-youngest of eight children. In an interview with The Guardian, he explained that growing up was difficult at times with money stretched thin and his father's alcoholism to deal with. After his father passed, Mullan attended Glasgow University, where he studied economic history and drama. He went on to teach acting after graduating. That evolved into launching his own professional acting career in 1987.
He worked in theater and on television at first, though he snagged bit parts in some fairly classic Scottish movies like Braveheart, Shallow Grave, and Trainspotting. He also wrote and directed films that reflected his personal, real life struggles. He made several short films in the early-to-mid 90s, as well as the feature film Orphans, which dealt with his feelings following his mother's death. He went on to write and direct 2002's The Magdalene Sisters and 2010's Neds.
When speaking with The Independent, Mullan discussed acting's therapeutic qualities, in regards to both the tough situations he'd dealt with in his life and the many complicated characters he'd played. He said:
The great thing with being an actor or a filmmaker is that you can explore all these things and come out the other end, hopefully better for it. You're not actually living it, it's all pretend. Everything you do is with impunity. You can spend a whole day shooting someone and then can congratulate them for the way they collapsed over the wall with a bullet through their head. You've not actually hurt anyone — but you've explored the type of people who do hurt people and the type of people who get hurt. It's one massive exploration.
But he also specified that he doesn't take his roles home with him, emotionally-speaking, which is probably a good thing; Westworld alone can get so tense that it's surely best left in the park.
Some of Mullan's other memorable film projects include My Name Is Joe, Children of Men, and playing Death Eater Yaxley in Harry Potter and the Deathly Hallows. When it comes to television, he's been in Top of the Lake, Olive Kitteridge, and Gunpowder. Now he's all set to bring the patriarch of the Delos family to life on Westworld Season 2, and it's clear he's got the skills to handle all that complexity.
Check out Romper's new video series, Romper's Doula Diaries:
Watch full episodes of Romper's Doula Diaries on Facebook Watch.