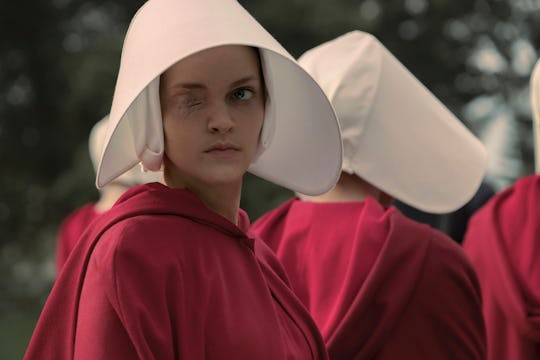 George Kraychyk/Hulu
Janine From 'The Handmaid's Tale' Is No Stranger To TV
Hulu's newest original series is an adaptation of Margaret Atwood's classic dystopian novel The Handmaid's Tale, and it's already become one of the most talked about shows of this year. Starring and executive produced by Mad Men's Elisabeth Moss, the show tells the story of Moss' character, Offred, who lives in the dystopian futuristic United States, which is now called Gilead. In this new world Offred is a Handmaid, which is a group of women who are forced to bear the children of Commanders with infertile wives. The show includes an incredible cast of characters, including Janine, another handmaid. So who plays Janine on The Handmaid's Tale? Madeline Brewer tackles the role.
Most viewers will probably recognize Brewer from her time on Orange Is the New Black as inmate Tricia Miller. Her fellow OITNB star Samira Wiley is also starring in The Handmaid's Tale as another Handmaid, by the name of Moira, though it's unclear if these two with interact much together. Viewers may also recognize Brewer from her roles on the popular series Hemlock Grove, Grimm, and Black Mirror. Additionally, she has a starring role on Fullscreen's thriller TV series The Deleted. On the big screen, Brewer has appeared in the film Flesh and Blood, which came out in March, and will bee seen in the upcoming film Hedgehog.
On The Handmaid's Tale, Brewer's character Janine ends up conforming to this new way of life after being broken down from her time training to become a Handmaid at the Red Centre. In the book, Janine reveals to the Aunts and Handmaid's-in-training that she was gang raped when she was young. But instead of comforting her, they shame her and make her feel as though it was all her fault. (Even if the Handmaid's themselves didn't believe this to be true, punishment was in store for those who didn't play their part.) But as for whether or not the show will keep to the same storyline for Janine, viewers will just have to wait and see for themselves.
Between the incredible cast, writing, and the way in the which the show depicts a society that many people believe this country could be headed toward, The Handmaid's Tale will no doubt do well.
The first three episodes of the show's 10-episode season is currently available for steaming on Hulu. New episodes will become available every Wednesday for the rest of the season.