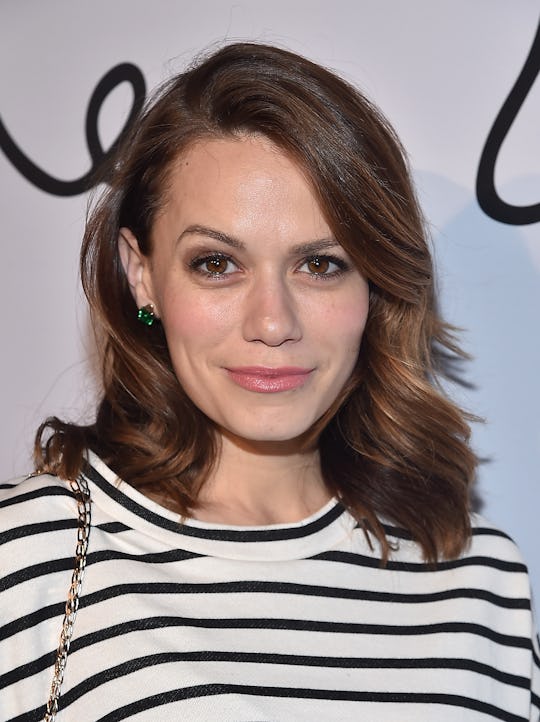 Alberto E. Rodriguez/Getty Images Entertainment/Getty Images
Jo's Husband Brought A Surprise To 'Grey's Anatomy'
Grey's Anatomy returned tonight and picked up right where it left off with Jo facing off with her husband, Paul Stadler but he wasn't by himself. Hanging onto Paul's arm was his fiancée, Jenny, but who plays Jenny on Grey's Anatomy? You may recognize her from her days on One Tree Hill.
Bethany Joy Lenz, who once played Haley on the popular CW drama series, is Paul's fiancée and surprisingly she seemed totally infatuated with him. I say surprisingly because based on what Jo has said about Paul, he's definitely not someone anyone should want to marry. Previously, Jo revealed to DeLuca, and later Alex, that her name used to be Brooke, but she ran away from her husband and changed her name because he was abusive towards her.
Jo has said that he used to punch her in the face and the stomach when she made a small mistake or did something he didn't approve of. But she also said he was loved by all, and it seems that hasn't changed. Before Jo could tell anyone that Paul had arrived at the hospital he'd already gained the favor of Arizona and Dr. Webber. Before he revealed his name to Meredith, he got on her good side too. It's easy to see how he could've found himself someone new to marry, but is he also abusive? It seems likely.
Paul claimed to be eager to get divorced from Jo so he could marry Jenny, but he seems to just be finding a replacement person to abuse. Everything Paul does is manipulative, especially the way he talks about Jo. When he first ran into her he asked if they could meet up "in private" and if not he'd "find her later." Then he talked about Jo partying a lot in college and attempted to make her seem untrustworthy or unbalanced in Meredith's eyes. Paul then when on to talk about how he tried to do the best for her and when he found her she was living in her car, basically building a hero narrative for himself.
It's typical abusive behavior. Paul was attempting to change the narrative, making it seem like Jo was a party girl and he actually tried to do everything he could for her but it just wasn't enough. But the truth was he hurt Jo so much that I'd bet if she hadn't left he would've killed her, as is unfortunately the case for many abuse victims.
Paul's manipulative tactics have just made it all the more clear that he hasn't changed at all, which makes me worried for Jenny, who either hasn't seen his abusive side yet or is so controlled by him that she knows better than to say anything.
Thankfully, Jo decided to do the right thing and warned Jenny about who Paul really is, but unfortunately her warnings appear to have fallen on deaf ears. Jenny told Paul about her conversation with Jo and Paul returned, threatening Jo by holding onto the business card she'd given Jenny, telling Jo he knew where to find her now.
However, it doesn't seem like he'll be a problem anymore since at the end of the episode he was brought to the hospital, this time as a victim. Apparently, he was involved in a hit a run, but did Jo or Alex do it? Could it have been Jenny? Unfortunately, we'll have to wait until next week to find out one way or the other.
If you or someone you know is experiencing domestic abuse, call 911 or the National Domestic Violence Hotline at 1(800) 799-SAFE (7233) or visit thehotline.org.