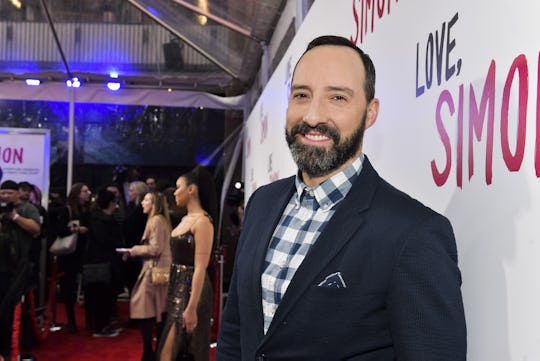 Rodin Eckenroth/Getty Images Entertainment/Getty Images
Jerome Squalor Comes In The Form Of A Very Recognizable Face On 'ASOUE'
A new season of A Series of Unfortunate Events is finally here and with it comes some a slew of new and exciting characters. One of those newbies is Jerome Squalor and he's being portrayed by a very familiar face. So who plays Jerome in A Series of Unfortunate Events? Two-time Emmy-winner Tony Hale is stepping into the pivotal role.
If you're a fan of comedy, you're undoubtedly familiar with Hale's work. He's been acting on TV shows and films for years now, always bringing the funny to everything he does. Nowadays he's most well known for his role as Gary Walsh on the hit HBO comedy, Veep. The role earned him his two Emmys as well as three more nominations. Prior to Veep, Hale's claim to fame was his role as Buster Bluth on Arrested Development. He will reprise the role when the series returns with its fifth season on Netflix sometime this year.
Besides these two major roles, Hale has also had a number of big roles in TV shows over the years and you may recognize him from Andy Barker, P.I., Buy More, Chuck Versus the Webisodes, ER, Ctrl, Chuck, Numb3rs, and Good Vibes. You may also recognize his voice from Sanjay and Craig, in which his does the voices for a number of characters, but mainly Mr. Noodman.
Additionally, Hale has been part of a number of episodes of Drunk History and made appearances on shows like Difficult People, About a Boy, Psych, and Royal Pains. He's known for a lot of work in film as well. Most recently you may have seen him in Love, Simon as Vice Principal Worth. He was also in RV, Larry the Cable Guy: Health Inspector, Stranger Than Fiction, Unaccompanied Minors, Because I Said So, The Heat, and Alvin and the Chipmunks: The Road Chip. In addition, he provided his voice for multiple parts in The Angry Birds Movie and Batman Ninja, which is due out this April.
With a series as strange and quirky as A Series of Unfortunate Events, there's no doubt that Hale will fit right in with the cast. If you're unfamiliar with the book series the show is based on, Jerome — along with his wife Esmé, played by Lucy Punch — pop up in the sixth book, The Ersatz Elevator, so you can expect to see Hale in those two episodes this season.
While Esmé ultimately becomes an antagonist in the series, Jerome is actually one of the few good adults that the Baudelaire children meet. He's trusting and kindhearted, but he also dislikes confrontation, which is why when it comes to his wife, he often let's her take the reigns and does what she says. Like many of the other adults in the show, Jerome also has a connection to the same secret organization the Baudelaires' parents were in, and Jerome was even good friends with their mother, Beatrice.
However, also just like the other adults the Baudelaire children have encountered, Jerome doesn't believe their claims about Count Olaf and his nefarious ways. So while Jerome is a good guy, it looks like the Baudelaire children will still be on their own again this season. Hopefully, they'll be able to continue to find their way out of the sticky situations they get into, avoid Count Olaf's clutches, and finally get some answers about the secret lives their parents led.
You can meet Jerome and see what kind of troubles the Baudelaire children find themselves in when Season 2 of A Series of Unfortunate Events begins streaming on Friday, March 30.
Check out Romper's new video series, Romper's Doula Diaries:
Watch full episodes of Romper's Doula Diaries on Facebook Watch.