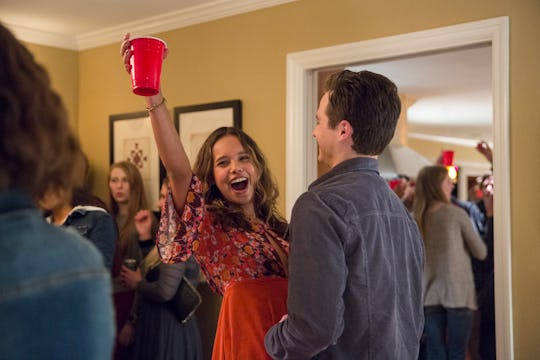 Beth Dubber/Netflix
Jessica On '13 Reasons Why' Is Hannah's Best Frenemy
13 Reasons Why is the latest thriller miniseries from Netflix, based on the eponymous novel by YA author Jay Asher. Backed by executive producer Selena Gomez, the project deals with the always relevant topics of teen suicide, bullying, adolescent mental health struggles, and rape, as told by the main characters, Clay Jensen and Hannah Baker. Shortly after Hannah commits suicide, a collection of cassette tapes show up at Clay's door, which implicate those who Hannah felt contributed to her death. Among those people is her frenemy and classmate Jessica Davis. So who plays Jessica on 13 Reasons Why? Alisha Boe has an impressive list of credits to her name, and she's only 20 years old.
Younger viewers may recognize her from a three-episode arc on MTV's Teen Wolf, while others may know her as Janet from Showtime's Ray Donovan, or as Becca on Hulu's Casual. She's also had guest spots on Parenthood, Modern Family, and CSI: Cyber, but she most recently had a film called 68 Kill premiere at SXSW. Back in 2014-2015, Boe also did 15 episodes of Days of Our Lives.
She was born in Oslo to a Norwegian mom and a Somali dad, but Boe relocated to Los Angeles when she was seven years old. After a childhood of dance recitals and after-school performance programs, she pitched the idea of becoming an actor to her mom, who was supportive, and Boe landed her first film role at age 11.
On 13 Reasons Why, she plays Jessica, one of the central characters of Hannah's story. Warning: major book spoilers ahead! If the series sticks to the book version of the character, Jessica, Alex, and Hannah all become close friends. Jessica and Alex even get romantically entangled at one point, but that's where the trouble begins. Alex releases a "hot or not" list for his classmates to pass around, which places Hannah in the "hot" category and Jessica in the "not." Fueled by jealousy, Jessica later accuses Hannah of trying to steal Alex away. She throws in Hannah's face information she shared in confidence — old rumors of Hannah's alleged promiscuity — which leaves Hannah feeling incredibly betrayed.
During a fight, Jessica hits her, leaving a scar on her forehead for some heavy-handed symbolism. Later, at a party, Hannah witnesses a boy enter Jessica's bedroom while Jessica is passed out from drinking, but she doesn't intervene. Jessica gets raped and Hannah winds up disclosing this on her tapes. It's a complex portrait of female friendship in the fishbowl of high school, and it expertly portrays how muddled accountability can get when people's trauma overlap and intersect. It's a serious role to take on, but I have no doubt that Boe is up to the task.
You can find out yourself when 13 Reasons Why gets released on Netflix on Friday, March 31.