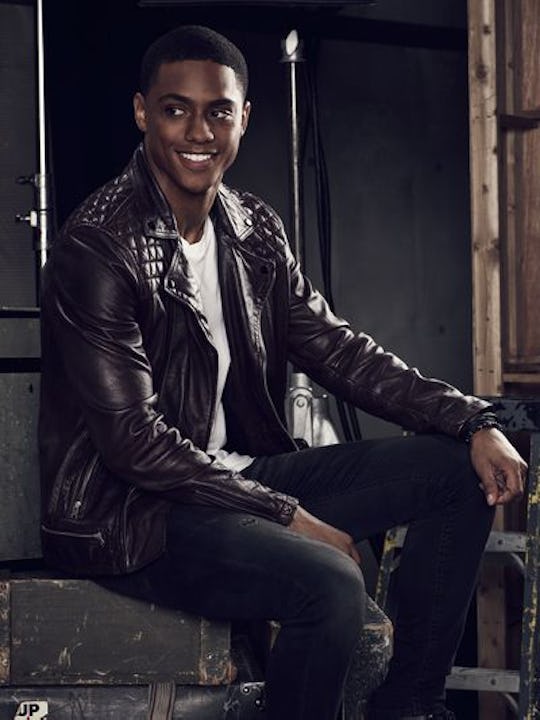 Nino Munoz/Freeform
Jordan Is Part Of A Love Triangle On 'Famous In Love'
As one I. Marlene King show comes to an end, another begins. The executive producer of Pretty Little Liars is bringing a new show to Freeform with Famous In Love. The new show stars Bella Thorne as Paige Townsend, a college student who gets her big break in Hollywood only to discover fame isn't always what it's cracked up to be. As the show title suggests, the show will also involve some love drama and it appears one character, Jordan Wilder, is in the middle of it. So who plays Jordan on Famous in Love? Keith Powers snagged the role.
This isn't Powers' first major role on a TV show, however. He had recurring roles on Sin City Saints and MTV's Faking It, and even appeared on another Freeform show Recovery Road. Additionally, he was on Pretty Little Liars four years ago as "Stringer Guy" and showed up in the pilot of Fear the Walking Dead. Besides that, viewers may also recognize Powers as Ronnie DeVoe in BET's miniseries The New Edition Story.
Powers has also done some work on the big screen as well. He played Dr Dre's brother Tyree in the biopic Straight Outta Compton. He also recently appeared in the film adaptation of the popular YA novel Before I Fall by Lauren Oliver and is set to be in #REALITYHIGH and Maximum Impact, both of which are due out this year.
Based on the trailer of the show, it looks like Powers' character, Jordan, will be in the same film Paige gets cast in. More importantly, it seems he's definitely interested in Paige, thus where the love drama comes in. Most likely there's going to be a love triangle to spring up between Jordan, Paige, and someone else. It's much too early to call whether or not Jordan and Paige will be endgame, though if I was her, I'd pick Jordan in a heartbeat.
The other part of the love triangle may be filled by Rainer Devon, who's played by Carter Jenkins. It looks like he'll also be in the film and he's the one that calls Paige to let her know she got the part. If there is a love triangle between these three, it could definitely lead to drama on set, which will be fun to watch unfold.
However, thus far this plot seems a bit tame for King. PLL was filled with murder and mystery, so is this show really just about famous people in love? Of course not. Apparently, Paige will also wind up uncovering the truth about a missing popstar, and call me pessimistic, but I'm sure whatever she discovers won't be good.
Famous in Love premieres on Freeform on Tuesday, April 18 at 9 p.m. ET, right after the final season premiere of Pretty Little Liars.