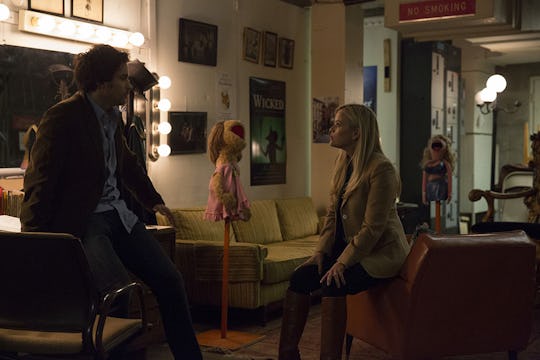 Hilary Bronwyn Gayle/HBO
Joseph Has An Expanded Role On 'Big Little Lies'
Since the premiere of Big Little Lies, we knew Madeline not only worked at a local theater, but she was in a fight about it with some members of the community (which is pretty typical of her). This theater's most recent production, Avenue Q, was seen as inappropriate by a group of parents, so they petitioned to shut it down. During last Sunday's episode, though, we finally got a good look at the director behind the show: Joseph. Not only that, but we learned that he and Madeline have history beyond Avenue Q. Who plays Joseph on Big Little Lies? If you're an avid TV watcher, you may recognize Santiago Cabrera. (Warning: minor spoilers from the novel ahead!)
If you read the novel Big Little Lies, you may have been surprised to see Joseph on the show because he was barely in the book. In an interview with Variety before the series aired, Reese Witherspoon mentioned changing an element of Madeline's character arc, and I can only imagine it's Joseph (unless another bombshell is about to drop, but as novel readers' jaws were probably on the floor after Sunday's episode, I suspect it's this). Joseph's inclusion was an interesting surprise, because not only do they kiss... but they alluded to a previous affair. In the novel, Madeline and Ed had a pretty tame relationship, so this is scandalous.
Joseph is played by Cabrera, who's no stranger to our televisions. He played Isaac Mendez on Heroes way back when. The Chilean actor is also well know internationally. He was Aramis on the BBC series The Three Musketeers as well as Lancelot on BBC's Merlin. He even had a guest spot on The Mindy Project last year. Cabrera joined the cast of Big Little Lies in early 2016. TheWrap's coverage of his casting noted that Joseph's role would be expanded by executive producer and writer David E. Kelley.
That's for sure. While it's doubtful that Joseph was any novel reader's favorite character, watching his arc unfold in the series will certainly be interesting. With the chemistry that Cabrera and Witherspoon have on screen, we know that we'll be seeing more of them as the series continues. And since this storyline did not happen in the book, both viewers who read the book and didn't will be in for a surprise! Joseph, and Cabrera, are exciting additions to the web Big Little Lies characters have woven for themselves.