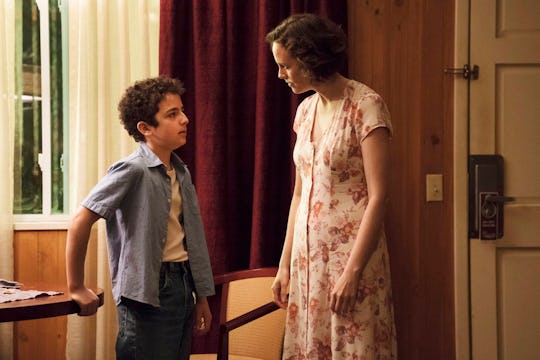 Peter Kramer/USA Network
Elisha Henig Is At The Heart Of The Mystery In 'The Sinner'
When USA's The Sinner returns on August 1, it will explore an entirely new mystery. With Cora Tannetti's past resolved, Detective Harry Ambrose returns to investigate a double murder in his hometown: a couple was killed by their eleven year old son Julian. It's a complicated role for a young actor to take on, and could end up launching the career of the person who plays it. But who plays Julian on The Sinner Season 2?
Fourteen-year-old actor Elisha Henig joins the series as Julian. According to the biography on his personal website, Henig grew up in Portland, Oregon and discovered his love of acting when he was only eight. He began taking part in local theater until he made the jump to television by snagging roles in single episodes of various shows. He appeared in the short films Circles and Leo & Clark before popping up on the TV series Nicky, Ricky, Dicky & Dawn, as well as Grey's Anatomy, Colony, Rizzoli & Isles, and more. He appeared in several episodes of American Vandal, but his biggest role to date was probably playing Zach Braff's son on the recently cancelled Alex, Inc. Henig also took part in a memorable episode of Mr. Robot called "Mohammed" in Season 3 that had him sharing the screen with star Rami Malek.
Henig made his cinematic debut in the film Future World. When he's not acting, Henig's website reports that he enjoys sports like soccer, rock climbing, and golf, as well as other creative pursuits like reading, writing, cooking, magic, and music.
While promoting Alex, Inc., Henig did a short interview with Just Jared Jr. where he offered a few fun facts about his personal life. His love of music isn't just a casual hobby; he has formed a band with his three brothers called Boys Without Toys. He offered fashion tips, citing his preferred aesthetic as the most convenient one: "the un-showered, just rolled out of bed look." He loves to make people laugh, which probably won't be the case with The Sinner, unfortunately. But he can do impressions, and that's sure to help.
Henig's fun facts ranged from the philosophical and surreal ("I often wonder if we live in a simulation") to the more political. He expressed a support for children's rights, something he echoes on his Twitter account, and also stated that he thinks "girls are the chosen people." The kid's alright, and he seems very different from the troubled Julian.
According to Deadline, Julian is "a bright but peculiar young boy on the brink of adolescence who is from a sheltered, unconventional background." After killing his parents in a motel room, Julian is suddenly pushed into a world outside his own, one that he might not know so well. His motive is uncertain and his life is unusual, to say the least; Julian has been living in a commune that might have cultish overtones. Another member of the commune, Carrie Coon's mysterious Vera, only complicates the investigation.
While Season 1 was very limited to Cora's perspective, it seems like the world might be opening up in Season 2. Showrunner Derek Simonds told Variety that Julian only knew part of the story, which meant that unraveling it had to be approaching in a different way than they did it with Cora. That makes the series more of an ensemble, but it also allows them to dig more deeply into other characters. Julian's trauma will bring up details from Detective Ambrose's past, allowing the show to take a closer look at "trauma and how people deal with trauma, how family systems affect people's behavior later in life, how we never really grow out of those experiences that we inherit from our parents."
The Sinner will be telling a new, original story in Season 2 and Henig will be at the center of the mystery.