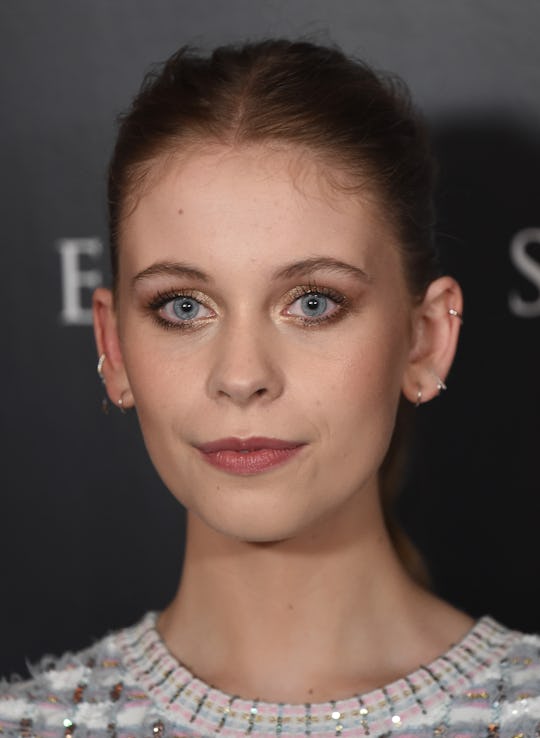 Stuart C. Wilson/Getty Images Entertainment/Getty Images
Sorcha Groundsell Plays A Shape Shifting Teen On 'The Innocents'
Netflix's new supernatural teen drama, The Innocents premieres on August 24, and it features a young couple who are fighting against some pretty unusual circumstances. The show centers around June, a young girl who discovers that she has the ability to shapeshift. The actress may not look familiar, so perhaps you're wondering, who plays June on The Innocents? Sorcha Groundsell is a relatively new actress, but as the show's lead, she's pulling the whole thing together.
The 20-year-old actress has been in a handful of projects, but her last major role was that of Elizabeth Smith on BBC's thriller series, Clique. In an interview with Vogue UK, the Glasgow native said that she quit school at the age of 16 to become an actress in London, where she first landed a role in the 2015 Indie film, Iona. Leaving school to pursue acting is a huge decision, and Groundsell said that while supportive, her parents still harbor some doubt about the film industry. "My parents are kind of excited, but they have a healthy amount of skepticism about the industry," she told the outlet. "They're very glad I can pay my way, and they're proud of me, but they don't take things too seriously."
So what drew her to the role of June? In her Vogue UK interview, Groundsell revealed that it was the June's young age and independence that intrigued her. "Reading the script made me think about how rare it is to come across a young woman, a 16-year-old, who has her own story," said Groundsell. "It's not about who June is in relation to her peers, or her parents — it's about her as an individual."
But as a young woman herself, Groundsell has a story to tell as well, and she has been using her new platform to talk about it. When talking to Phoenix, the actress revealed that she is striving to see more women on screen and on set. "The more women in our field, the more actresses talk about their experiences and the challenges they face, the more the young actresses coming into the industry can know what to look out for, can know how to handle situations that they maybe wouldn't otherwise."
In the same interview, Groundsell said that spending so much time in front of the camera while filming The Innocents helped her gain the confidence to be more vocal about her opinions. "Confidence is a huge part of it and I think this is what's been great about filming The Innocents," she said. "It gave me more of that confidence to say what I thought was right and what I had issues with. I could really voice my opinion, which I hadn't been confident enough to do before."
Groundsell has voiced some of those opinions on her Instagram page, where she posted a picture of Hillary Clinton right before the 2016 election with the caption "We're on the brink of smashing the last, toughest glass ceiling, and that is pretty incredible. Please do the right thing America. #imwithher now and forever." Last month, Groundsell shared a picture of herself protesting President Trump in a "Nevertheless She Persisted" t-shirt. "That man does not represent Britain and he certainly does not represent Scotland," she captioned the photo. "However many golf courses he may want to build there."
But Groundsell's Instagram is mostly full of promos for The Innocents these days, and she recently posted a couple of photos with her co-stars Guy Pearce and Percelle Ascott. The actress seems pretty excited for the world to see her work, and I have a feeling that this won't be the last you see of her. The Innocents will air its 8-episode season on Netflix on August 24.