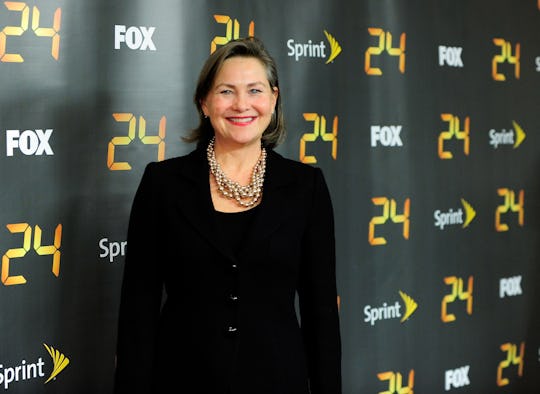 Jemal Countess/Getty Images Entertainment/Getty Images
June's Mom Is Making Her Debut In 'The Handmaid's Tale' Season 2
June's mother was an important tertiary character in Margaret Atwood's The Handmaid's Tale, but she was conspicuously missing from the first season of the Hulu adaptation. That's about to change in Season 2 when the character finally makes her first appearance. But who plays June's mom on The Handmaid's Tale? The casting choice is so utterly perfect that fans will be thrilled to see who shows up to play June's mom Holly in Episode 3.
Cherry Jones has been cast in the part, though currently it's unclear just how much of the season she'll be involved in. Showrunner Bruce Miller knew how important June's mom was to her journey, but felt there simply wasn't enough time in Season 1 to really explore that connection. In both the book and the Hulu series, Holly is an outspoken feminist who can be occasionally judgmental but nevertheless very loving to her daughter. In the novel, Offred found her mother's brand of feminism a little extreme in a pre-Gilead world, which reflected the time in which the book was set. That might see an update onscreen, but fans will have to wait and see.
Holly's fate in the book might unfold on the show as well. The novel saw her condemned to the Colonies, and that could be explored further now that Season 2 has delved into the realities of the horrifying work camps. But it's impossible to say ahead of time.
Executive producer and star Elisabeth Moss described Jones as her "fantasy choice" for the role when talking to THR, and it's easy to understand why. Jones is an incredibly talented and well-respected actress who has impressed audiences on stage, on television, and in movies. She's been nominated for five Tony Awards over the course of her career, winning twice for Best Actress: the first time for 1995's The Heiress revival and again in 2005 for Doubt. She also won three Drama Desk Awards and an Emmy for Outstanding Supporting Actress for playing Allison Taylor on 24, which is where many TV fans might recognize her from.
Her career is fairly prolific. Some of the many films Jones has appeared in are Erin Brockovich, Divine Secrets of the Ya-Ya Sisterhood, Signs, and Ocean's Twelve; more recently, she's appeared in The Party and Boy Erased. She also has two upcoming films called Wine Country and Motherless Brooklyn to look forward to. Her television roles are similarly numerous and varied, but in the last few years you may have seen Jones in Transparent, Black Mirror, American Crime, or Portlandia.
Jones has been openly gay for nearly the length of her career, with several notable public relationships. She was with architect Mary O'Connor for 18 years, then with actress Sarah Paulson for seven. In 2015, Jones married filmmaker Sophie Huber, later telling The Stage, "I'm such a happily married woman, it's been one of those great surprises in my life."
Since it's difficult to predict how much Holly will be in Season 2 of The Handmaid's Tale, the show needed an actress who could make as much of an impact as the character did in the novel. As Miller told THR, June's mom is a big character and one who influences June a lot. He said:
June's memories of her mother and her activism as very vibrant in the book, so we've been talking about her from day one of Season 1, and it just didn't seem like enough time to do her justice. In Season 2, we mention her a little bit, but we just don't want to short-shrift her story. It's a story we want to tell — she was one of the most memorable characters.
Jones sounds like a natural choice to make an impression in what could be a relatively short amount of time, and it will be a delight to see her opposite Moss. No matter how long Holly is on screen, she'll be a wonderful addition to the series.
Check out Romper's new video series, Romper's Doula Diaries:
Watch full episodes of Romper's Doula Diaries on Facebook Watch.