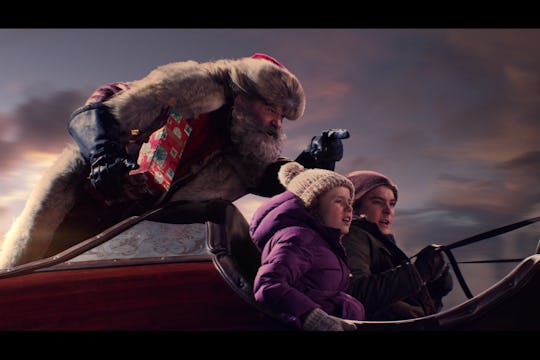 Michael Gibson/Netflix
Darby Camp & Judah Lewis Are On A Holiday Adventure In 'The Christmas Chronicles'
Netflix's new film, The Christmas Chronicles, isn't your average holiday movie. From director Chris Columbus, the film follows two siblings, Kate and Teddy, as they try to help Santa save Christmas. The all-star cast features Kurt Russell as Santa, and his stepson Oliver Hudson as the kids' father, Doug Pierce. But because the kids are at the heart of the film's story, fans are wondering, who plays Kate and Teddy Pierce in The Christmas Chronicles?
Actress Darby Camp plays Kate Pierce, and actor Judah Lewis plays her older brother Teddy. You may recognize Darby from her role on Big Little Lies, where she played Chloe Mackenzie, the adorably mature, music-obsessed child of Reese Witherspoon's character, Madeline. Lewis' most notable role was in Netflix's comedy-horror film, The Babysitter, in which he played Cole Johnson, the young boy being hunted by his babysitter and her devil-worshipping buddies.
In The Christmas Chronicles, Camp and Lewis play siblings that plan on catching Santa on camera on Christmas Eve and wind up following him onto his sleigh. While secretly filming him from the backseat, they startle Santa and his reindeer, unexpectedly causing the sleigh to crash. With no means for transporting gifts, the Christmas holiday is in jeopardy, so the kids work together with Santa and his elves to help save Christmas.
In an interview with Build, the child actors talked about their experience on the film and how much they loved working with Russell. "I was pretty starstruck, I really loved working with him," said Camp. "He's such an amazing Santa Claus." Lewis added despite being such a big movie star, Russell was nothing but kind and generous to them on set, leading them to wonder if he is the real-life Santa after all. "We're still on the fence about whether or not he is the real [Santa Claus]," he joked.
Aside from his kindness, it's probably Russell's dedication to the character that has kids believing he's the real deal. In The Christmas Chronicles, you won't find Russell playing your typical jolly Saint Nick, instead you'll find a more soulful, mature version of Santa, which is a refreshing change from the generic milk-and-cookies incarnation. When talking to Parade, the veteran actor explained how he wanted to portray Santa in a more realistic way. "I'm not playing him as a jolly, old elf, he's a real person," said Russell. "Santa's got an element of intimidation to him. You watch kids going up to the fake Santa Clauses in the malls and there's a big part of that that involves intimidation. They'll keep their eyes down."
He went on to describe the reaction kids had to seeing him as Santa (he even grew out his beard for the role), and how that response is what inspired him to portray Santa in such a different way. "I was fascinated when we were doing the movie when a child, anywhere from the age of 4 to 7, would happen upon us and they would inevitably all do the same thing, where they would look at me, and then the minute I looked at them, they would look straight down," he told the outlet. "They would not hold Santa's gaze. It's like there's an automatic sense of awe there. That sense of awe is, I think, what makes him fascinating."
But it's not just Santa that is fascinating. There's something about holiday movies that lift your spirit and stir up all those warm, fuzzy, holiday tingles you only get this time of year. With all the holiday action and adventure packed into The Christmas Chronicles, along with Russell's magical portrayal of Santa, the film might just generate enough tingles to become a family holiday favorite.
The Christmas Chronicles is streaming on Netflix.