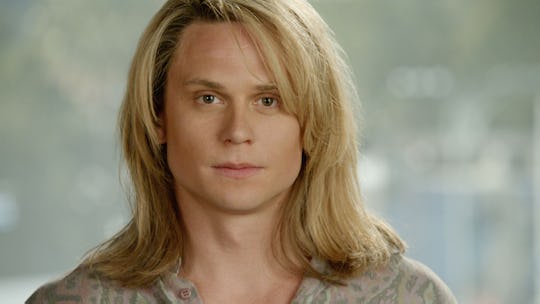 FX
Who Plays Kato Kaelin On 'People v. O.J. Simpson: American Crime Story'? Billy Magnussen Is Quite A Catch For The FX Series
Actor Kato Kaelin scored the role of a lifetime when he became a key witness in the Trial Of The Century. Even 20 years later, those who tuned into the trial against O.J. Simpson for the murder of Nicole Brown Simpson and Ronald Goldman can immediately recall Kaelin, whose hair and slacker reputation made him the subject of many headlines (and many, many jokes). But, now, he's entering the limelight once again, as a character in FX's The People v. O.J. Simpson: American Crime Story. And the actor already has thoughts about how Billy Magnussen, the actor who plays Kato Kaelin in American Crime Story.
Speaking to Entertainment Tonight about the casting of Ryan Murphy's 10-part true crime series, Kaelin said there were a few differences between himself and Magnussen. At least, when it comes to appearances. For one, according to Kaelin:
My hair was, first of all, never that long. Otherwise, great looking girl.
Har.
But it's clear Kaelin is confidant in his on-screen counterpart. As he told Us Weekly:
I'm sure Billy Magnussen will do a great job portraying me in the FX mini series. He is a terrific method actor. I know this to be true because he just moved in behind my place.
Har. Har.
The New York-born Magnussen is at least method enough that it seems he certainly did get the hair length correct. Just see this press photo from FX of Magnussen as Kaelin:
Compared to a picture of Kaelin testifying at Simpson's 1995 trial:
Kudos, styling team.
And Kaelin is quite lucky to have such a revered actor representing him on screen. After all, Magnussen is quite familiar to anyone who traveled to the theaters to check out this year's Oscars contenders. The actor starred in both The Big Short and Bridge Of Spies, catapulting to the A list after years spent acting on As The World Turns.
Still think he's familiar, but didn't see this year's Oscars movies yet? Well, then you might have caught him in 2014's Into The Woods, in which he played Rapunzel's Prince alongside the one and only Meryl Streep. "The first, first day of the read through of everything, when everyone was there. It was so surreal," he told DIY Mag. "It was like, 'wow, this is actually happening right now.'"
Either way, American Crime Story will no doubt turn Magnussen into a household name, instead of just a household face. Even in the premiere of The People v. O.J. Simpson, Magnussen stands out with his confused portrayal of the man who stayed in Simpson's guest house the night of the murder.
And he certainly has worked hard to become a household name. In fact, he juggles more than just one career. As OZY reports, Magnussen works out daily, still sees an acting coach on occasion, and balances his film career with live theater. (The actor, who debuted on Broadway in The Ritz, was nominated for a Tony in 2013 for his work in Vanya And Sonia And Masha And Spike.)
Oh, and he plays guitar for his band, Reserved for Rondee.
I might fail ... but I think it's important to have the courage to fail ... And I am trying. My father always said, 'Look at the bright side.' And I have to say that I'm very lucky. I'm a lucky SOB.
I'd say Kaelin is luckier.