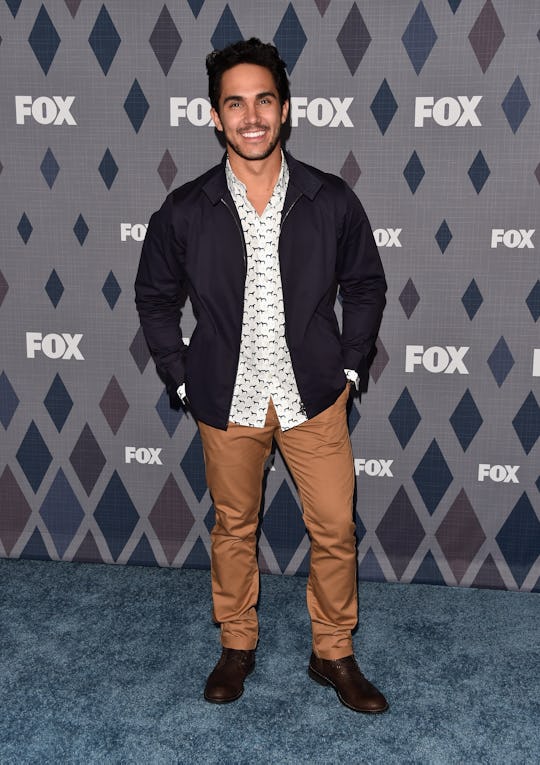 Alberto E. Rodriguez/Getty Images
Who Plays Kenickie On 'Grease: Live?' Carlos PenaVega Is The Epitome Of A Bad Boy Crush
The musical-loving world is impatiently waiting Grease: Live, which will air on FOX at the end of this month. In preparation for what's been reported to be a new feature song, mysterious lyric changes, and additions to the cast from the celebrated film, excited viewers are wondering who plays Kenickie on Grease: Live. Because seriously — isn't that the most important question of all?
On Jan. 31 at 7 p.m. ET, heartthrob Carlos PenaVega will be throwing on his leather jacket and greasing that hair back to play bad boy Kenickie — and you should know everything about him before he sings and dances his way into our collective, greaser-loving hearts.
PenaVega is a 26-year-old actor and singer who was born in Columbia, Missouri, and who later studied musical theater at Boston Conservatory. According to his cast bio page on Fox.com, PenaVega is best known for his role as "Carlos Garcia" in the cable musical comedy Big Time Rush. While PenaVega has acted alongside heavy hitters like Kate Bosworth in the indie flick Little Birds, there's no question that Grease: Live is the biggest opportunity PenaVega has had in his entertainment career, a fact not lost on the young actor, who took to Twitter to express his excitement about the role, as well as his chance to work with some wonderful actors and singers.
PenaVega is also well-know for his success on the highly-rated Dancing With The Stars. On season 21 of the reality show, he dominated the voting polls with partner Whitney Carson, making it to the finals before ultimately losing to fan-favorite and nature conservationist Bindi Irwin and Derek Hough. I'm not one to play favorites, but seriously — Carson and PenaVega's Tango performance to Justin Bieber's "What Do You Mean?" is the stuff live-television was made for.
There's little doubt that PenaVega will most definitely be using those smooth moves during the live Grease event, giving Kenickie all the "hand jives" he needs to solidify himself as movie and television's ultimate, leather jacket-wearing bad boy.
As if all of that wasn't enough, PenaVega also recently released his first solo single in Spanish, titled "Electrico." It ended up making it into the Top 10 of the Latin iTunes song charts, an impressive success for anyone, especially someone who is also juggling multiple television performances.
A multilingual heart throb who can dance, sing, and flash a million dollar smile effortlessly? Yeah, there's no doubt that Kenickie will remain the bad boy we all love to hate, and hate to love, thanks to the many, many talents of Carlos PenaVega.
Images: Alberto E. Rodriguez/Getty Images