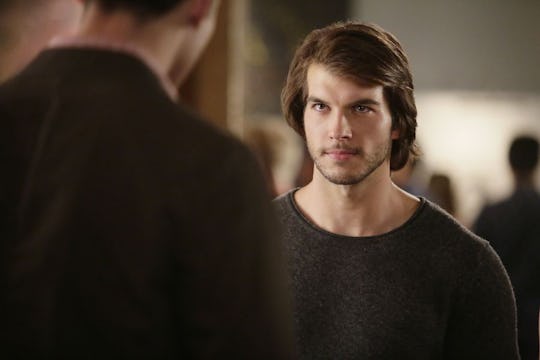 Nicole Wilder/ABC Family
Who Plays Kimmy Gibbler's Brother On 'Fuller House'? Adam Hagenbuch Joins The Cast
Oh my Lanta, Kimmy Gibbler has a brother? I guess I missed that in the OG show, Full House. With the addition of a Gibbler this coming December, expect Netflix to get a lot weirder. Everyone wants to know who plays Kimmy Gibbler's brother on Fuller House. Adam Hagenbuch joins the cast as Jimmy Gibbler, yes, you read that right — Jimmy and Kimmy. Like an adult version of oddballs Phil and Lil, the male-version of DJ's bestie will reportedly act just like his bizarro sister.
In Full House, Kimmy name drops an older brother Garth, but we never actually see him. In the episode "Wild Thing", Kimmy mentions Garth again, and drives his car. "My brother will kill me" Gibbler says when she accidentally locks her keys in her sibling's car. Season 2 of Fuller House will mark the first time we meet any of Kimmy's relatives — probably because they actually live in outer space. At least these aliens have good genes. You can get a taste of Hagenbuch's acting from the show Switched at Birth, when he played Scott in Modern Family, and a cameo appearance he made in Lifetime's The Brittany Murphy story.
In addition, you can see him strip and get freaky in Undateable, and cross-dress and dance in a rendition of The Rocky Horror Picture show in The Perks of Being a Wallflower. If he's comfortable wearing a bedazzled corset in this film, imagine what he'll wear on Fuller House. According to E! News, Hagenbuch "will have a significant recurring guest role," so you can expect him to wear many hats throughout the season.
I can already see the potential quirky handshakes, dances, strange habits, and childhood rituals to come on the throwback show. Bring it on, Gibblers. Bring. It. On.
He isn't the only estranged family member we will meet in the new season. The world will join comedic Joey Gladstone's family of six for Thanksgiving this year. The Hollywood Reporter let us know that the wacky uncle has finally settled down with a family of his own. We'll see his wife and four little Gladstone. Lastly, and most importantly, I wonder if Jimmy's feet will smell like Kimmy's.