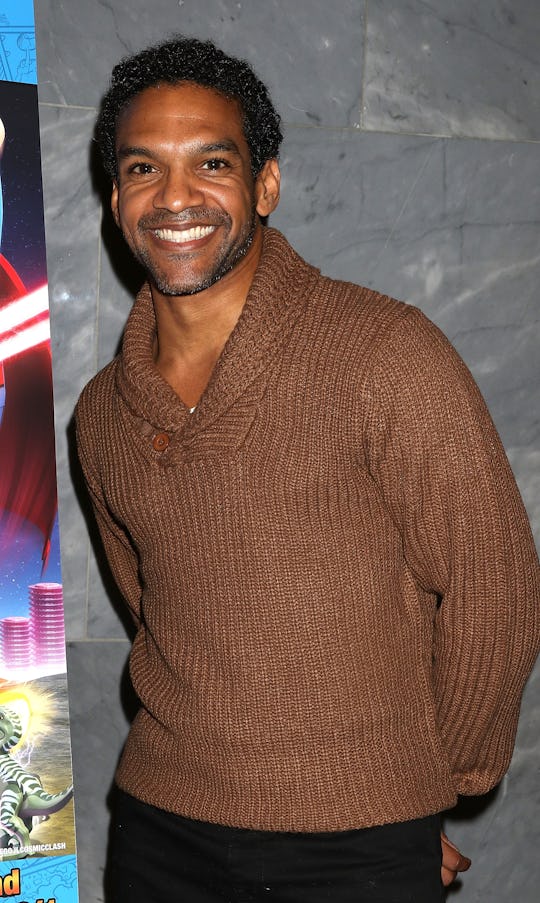 Laura Cavanaugh/Getty Images Entertainment/Getty Images
Who Plays King Ezekiel On 'The Walking Dead'? Khary Payton Has Insight Into The Character
Of the many new additions to Season 7 of The Walking Dead, King Ezekiel and his Kingdom is one of the most highly anticipated. Ezekiel is a fan favorite character from the comics, and he's definitely not like anyone Rick's crew has come into contact with before. Ezekiel is notable for his pet tiger, Shiva, and the peaceful community he runs as a benevolent monarch. Ezekiel's Kingdom is flourishing, but they also have Negan's control to contend with, making them a perfect ally for the Alexandrians. But what about the man behind the tiger? Who plays King Ezekiel on The Walking Dead?
Ezekiel is played by an actor named Khary Payton. Payton has a ton of acting credits to his name, but the bulk of his work has been in voiceover. He has lent his voice to countless cartoons and video games, so there's a chance you may have heard him somewhere before even if his face is less familiar to you. He also had a recurring stint on General Hospital in 2011, and has appeared in many one-off roles in a variety of TV shows. Ezekiel looks to be his biggest live onscreen role to date, and interviews show Payton already seems to have a good grasp on the character.
"I feel like I had a connection with this character in a weird way," Payton recently told Entertainment Weekly in an interview. He added:
I always say that when you're in this acting business, you get a lot of rejection. You get a lot of people telling you no and you've got to get up, dust yourself off, and try again, and I feel like in a way Ezekiel fits that same mold where he's in the hope business. I always say I'm in the hope business. You've got to stay hopeful.
According to Payton, Ezekiel believes that the only thing that separates the living from the dead is being able to hold on to a sense of joy, and this sets Ezekiel apart from everyone else. He has a new, refreshing perspective in this post-zombie world.
Payton's previous experience with video games and voiceover ended up being incredibly useful when it came to Ezekiel's most important co-star: his tiger, Shiva. Shiva was created using a mix of CGI and animatronics, which could make reacting to her naturally difficult for anyone, but Payton knew how to handle it. "It's just another beautiful way that I get to use my imagination," he said.
As far as I'm concerned, Shiva's as real as the people standing next to me [...]. I've done a lot of video games where there's literally nothing standing in front of me. I've done, you know, a lot of voiceovers where there's literally nothing standing in front of me, I've got to make it all up, so this is just another situation where my imagination gets to be used in another context, so no matter how good they bring it to life, it's already alive in my head.
Any time a character takes a long time to jump from page to screen, it results in a lot of anticipation, particularly from fans. Will the character remain true to the original? Will the performance satisfy everything fans were waiting for? From the way Payton talks about Ezekiel, it doesn't look like fans have anything to worry about.