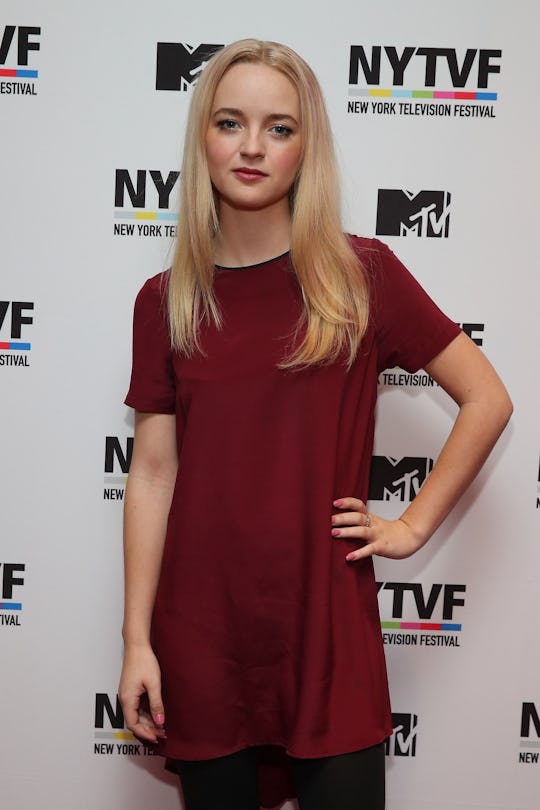 Neilson Barnard/Getty Images Entertainment/Getty Images
You Should Recognize Kristen On 'Grey's Anatomy
Grey's Anatomy is finally back! Unfortunately, if you thought Shonda was just going to tell us right off the bat what happened to Alex, you were greatly mistaken. Instead, the episode followed Arizona, Bailey, and Jo to prison where they treated a pregnant teen named Kristen. The actress who played the role of the volatile teen may have looked familiar to some viewers. So who plays Kristen on Grey's Anatomy? It's 20-year-old actress Anna Jacoby-Heron.
Although Jacoby-Heron's resume isn't long, if you were a fan of MTV's show Finding Carter then you've definitely seen Jacoby-Heron before. The young actress played Carter's fraternal twin sister, Taylor Wilson, on the show. Besides Finding Carter, Jacoby-Heron was also in the film Contagion, appeared on the show Vegas, and will appear in a new film called, Newly Single, which is set to be release later this year.
As Kristen, though, Jacoby-Heron really shows her acting talent. And while viewers don't ever get to find out why Kristen was put in prison, the prison doctor states she'll be in jail for 20 years to life, so it's clear whatever Kristen did, it wasn't good. From the start of the episode fans can see how violent Kristen can be when she broke the finger of the prison doctor, thoroughly terrifying Bailey. However, as the episode goes on it, became clear that there was more to Kristen than just her prison sentence.
Kristen was ready to give birth to her baby so she could see her mom who would be allowed to be with her through the delivery and then adopt the baby afterward, so Kristen could still see her when they visited. However, this wasn't Kristen's mom's plan. Instead she came to just check on the baby and cared only about the baby's condition. She didn't want to see Kristen and had no intention of ever bringing the baby to see Kristen once she was adopted.
Bailey and Arizona agreed they shouldn't tell Kristen this, but Jo didn't agree and when Kristen went into labor and kept asking for her mom, Jo finally confessed the truth. Heartbroken, Kristen let Bailey hold her hand — something she wasn't too open with at first — while she gave birth to her daughter, Ellie. At first Kristen didn't want to see her baby after the birth, knowing it may very well be the last time she ever sees her again. However, she then broke down and took Ellie into her arms, telling her to be good, before giving the baby back to Jo. The moment was truly heartbreaking and undoubtedly left many fans in tears by episode's end.
Suffice to say, Jacoby-Heron truly outdid herself in this role and I'd love to see her appear in something else soon.