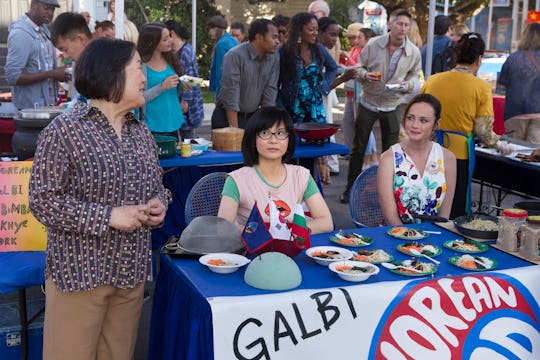 Saeed Adyani/Netflix
Who Plays Lane's Dad On The 'Gilmore Girls' Revival? His Identity Is A Mystery
(Warning: This post contains spoilers from Episode 1 of the Gilmore Girls revival.) There are a lot of favorite characters in Gilmore Girls but two fan favorites were always Lane Kim and her mother, Mrs. Kim. While Lane was obsessed with music, her mother was a Korean Seventh-day Adventist who was very strict. Hence why Lane always hid her CDs in the floorboards of her bedroom. As much as fans loved the relationship between Lane and her mother many fans wondered where Lane's father was. Fans never saw him in Gilmore Girls but he finally made an appearance in the revival. But who plays Lane's dad on the Gilmore Girls revival?
Unfortunately, the actor that plays Lane's dad is a mystery but at least fans can now say they saw him. In the earlier seasons Lane's dad sometimes came up in passing but as the seasons went on Lane's dad was mentioned less and less. However, nothing was ever said about Lane's dad dying or anything along those lines so I always wondered what ever happened to Lane's dad. Gilmore Girls creator Amy Sherman-Palladino must've heard my questions about Lane's ancestry and thankfully brought in someone to appear as Lane's dad.
The moment was perfect. As Lane and Rory manned the Korean food table and Mrs. Kim walked away with her new choir Lane said the words I've been desperately waiting to hear.
"Hey look there's my dad!" she said excitedly.
Honestly I didn't expect to actually see someone. I thought maybe it would be like a moment where Rory would say she couldn't see him and Lane said something along the lines of, "Oh darn he's gone now." Okay in hindsight that doesn't sound like Lane but you get my point. However, I was happily surprised when the camera turned and there was an elder Korean man with a little bit of a hunchback and glasses waving at Lane. It was Mr. Kim and he was adorable!
Although he didn't stick around that long (not even a minute really) it was still great to see him and to know once and for all that he actually does exist.