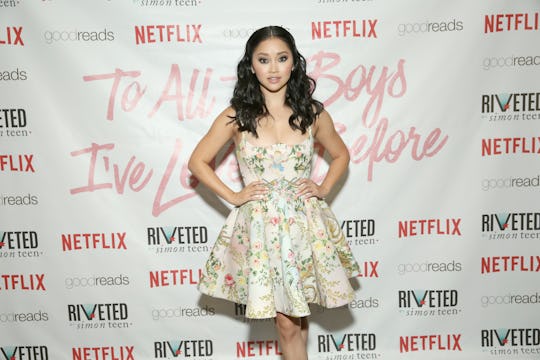 Monica Schipper/Getty Images Entertainment/Getty Images
Lana Condor Stars In Netflix's Newest Teen Romcom
When To All The Boys I've Loved Before premieres on Netflix on August 17, viewers will be introduced to Lara Jean Song Covey. Lara Jean is a little dreamy, a lot romantic, and she navigates the pitfalls of high school with a perspective all her own. Lana Condor plays Lara Jean in To All The Boys I've Loved Before and, from the sounds of it, there was no one else who could play the part quite like she could.
Condor is a 21-year-old actress best known for having played Jubilee in X-Men: Apocalypse. She only has a few other acting credits to her name, including Patriots' Day and High School Lover, but she has several projects coming up. Condor will be appearing in Alita: Battle Angel, Summer Night, and the series Deadly Class. Before she became an actress, Condor was a dancer, according to Status Magazine Online. She attended the Joffrey Ballet School and Ailey/Professional Performing Arts School; later, she performed with the Los Angeles Ballet.
But she was also taking acting classes during that time. "While I was living in New York City, I took an acting class and really enjoyed it," she told Status. "It just so happened that I was moving out to Los Angeles for high school. What an amazing place to be if you want to look more into acting or do it as a profession."
After moving to L.A., she began to go on auditions and soon landed the role of Jubilee. To All The Boys I've Loved Before followed, and Condor was drawn to it immediately, in part because of how rare it is to have a coming of age story centered around an Asian girl. In an interview with Vulture, Condor said, "When I got the audition, I said to myself, 'This is mine.' I can't let anyone else have this. Because an opportunity like this doesn't come along very often for me."
Condor called the part a "dream come true," especially after the rigorous audition process. She told Vulture that a lot of girls were in the running for Lara Jean and that it took a few callbacks and chemistry reads before she landed the role. However, author Jenny Han connected to Condor immediately. Han wrote the novel upon which the movie is based, as well as its two sequels, P.S. I Still Love You and Always and Forever, Lara Jean. While talking to The Young Folks, Han stressed how necessary it was to find the perfect Lara Jean, because she has to carry the entire story.
"It was the most important piece of the whole thing to find the right Lara Jean. Her character is introverted but yet she's still very much self-possessed and her own person," Han said. "So, I think to find that balance of somebody who is more internal but also very expressive was very important." She continued:
There were a lot of auditions but I was really only involved in the selection process towards the end of it but once I saw Lana Condor audition, I knew that she was going to be the perfect Lara Jean.
The rest is history. Though there's no official news on the possibility of adapting Han's two sequels as well, there is a chance (however slim) that Condor could end up reprising her role as Lara Jean one day. She told Teen Vogue that she would love to do so if the opportunity arose, but "it all comes down to if people watch the movie and if they're vocal about it in a positive way."
There might not be another Lara Jean movie, but Condor has enough projects in the pipeline to keep busy for the foreseeable future.