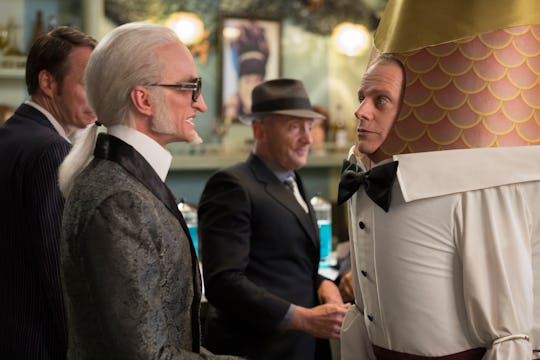 Joseph Lederer / Netflix
Larry The Waiter Has Become A Fan Favorite On 'A Series Of Unfortunate Events'
A Series of Unfortunate Events returns for its second season on Friday, March 30 and you can expect it to be just as good, if not better, than the first. The series returns with the same incredible cast of characters, including Larry the Waiter. But who plays Larry the Waiter on A Series of Unfortunate Events? Patrick Breen returns for the highly comedic role.
Breen has been appearing on the small screen since the '90s, so you may recognize him from a variety of his work. When he first started out, he had appearances on One Life to Live, My Sister Sam, The Cavanaughs, Gimme a Break!, and 21 Jump Street, the original TV series that spawned two films. In the late '90s Breen got his first ever regular series role as the narrator for the cartoon show, Magic Adventures of Mumfire. He later returned as the narrator for the film, Mumfie's Quest: The Movie, in 2014.
While working on Mumfie and after it ended, Breen also had recurring roles on Just in Time, Sunday Dinner, Melrose Place, Big Wave Dave's, Simon, and Party of Five. Additionally, he nabbed special appearances on Sex and the City, Kristin, Jack & Jill, Ally McBeal, Frasier, Judging Amy, Will & Grace, Angel, and The West Wing. (Not a bad round-up of credits to add to the old resume.)
Breen then got a starring role on the series Kevil Hill, which also starred Taye Diggs as the titular character. Unfortunately, the project didn't continue on past its first season. Following that, Breen continued to pick up more roles on other shows, including Boston Legal, Pushing Daisies, Eli Stone, ER, Ghost Whisperer, and CSI: Miami.
Viewers may also recognize Breen from his time on Criminal Minds, Blue Bloods, Royal Pains, The Mysteries of Laura, Elementary, Madam Secretary, Whole Day Down, Show Me a Hero, Law & Order: Special Victims Unit, The Good Wife, BrainDead, Conviction, and Blacklist: Redemption. Besides his work on the small screen, Breen has also done a number of films, including Men in Black, Nobody's Perfect, Passed Away, For Love or Money, Sweet Nothing, Get Shorty, One True Thing, Just the Ticket, Galaxy Quest, East of A, Just a Kiss, Radio, Space Chimps, and After Louie. Suffice to say, he's been in a lot of stuff.
Additionally, Breen has done work on and off Broadway as well. His first Broadway role was in Next Fall as Adam in 2010. The following year he was in the original Broadway production of The Normal Heart, and also went on to be in the U.S. Tour of the show in 2012. The Normal Heart was later turned into a TV movie that won an Emmy. Prior to his Broadway debut, Breen was in a number of off-Broadway productions, including Life and Limb, Blood Sports, Baba Goya, The Substance of Fire, Night and Her Stars, and View of the Dome.
It's hard to say what Breen does in his down time, if he has any with all that he's working on. He doesn't have any public social media accounts and likes to keep his personal life private. The only thing that's well known about his personal life is that he's married to Nadine Van der Velde, an actress. However, she also flies under the radar.
Although Breen's character, Larry, doesn't have a big role in ASOUE, it is an important one. Larry appears to be in the same secret organization the Baudelaire children's parents were in and when they arrived at his restaurant he did everything he could to help them, though he wasn't successful. It'll be interesting to see what his return in the series means.
You can see Larry when A Series of Unfortunate Events Season 2 premieres on Netflix on Friday, March 30.
Check out Romper's new video series, Romper's Doula Diaries:
Watch full episodes of Romper's Doula Diaries on Facebook Watch.