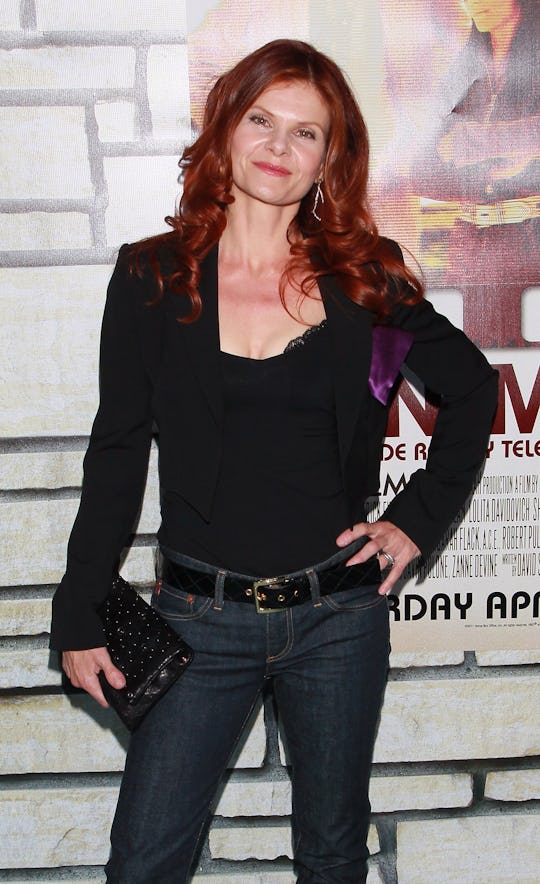 David Livingston/Getty Images Entertainment/Getty Images
Laurel's Mom Makes An Appearance On 'HTGAWM'
Laurel's long-mysterious mother is finally making an appearance in "He's a Bad Father." But who plays Laurel's mom on HTGAWM? Actress Lolita Davidovich joined the show in a recurring role as the first Mrs. Castillo, and she wasn't quite what anyone would have expected. But it was hard to know what to expect, because viewers knew very little about Laurel's mother. Laurel's references to her were always vague.
All fans knew was that Laurel had had a difficult childhood and her parents did not have a healthy marriage, but it was difficult to determine how contentious it was. Laurel's mom had struggled with her mental health and was diagnosed with bipolar disorder at some point. At times it seemed like Laurel and her mom didn't have any relationship at all, and it wasn't clear how involved Mrs. Castillo was in Laurel's life.
However, now that Laurel's family drama was front and center, Mrs. Castillo arrived in town to support her. In "He's a Bad Father," Laurel embarked on a custody battle against her dad for her newborn son and her mom was there in court with her the entire time. Her support wasn't entirely silent, either; she was supposed to testify on Laurel's behalf and make it clear that Jorge wasn't fit to take care of Laurel's son.
Actress Lolita Davidovich might be a familiar face, because she's had a long career in both television and movies. She's been working steadily since the early 1980s, appearing in shows like The L Word, True Detective, and Shades of Blue (among many others). Recently, she co-starred in Law & Order True Crime as Kitty Menendez. Though she was rocking a French accent as Laurel's mom, she's actually from Ontario, Canada, though she has lived in the United States as well.
According to the Canadian Encyclopedia, Davidovich and her parents moved to Chicago, which was where she began to study acting. In her early days as an actress, she took on small parts in film and TV before landing a major role opposite Paul Newman in 1989's Blaze. It helped launch her career, and she's been onscreen in some form or another ever since. Blaze was also where she met her husband, director Ron Shelton, as reported by The Washington Times.
In the same 2001 interview with The Washington Times, Davidovich explained what drew her to acting. "I think its probably a combination of being Slavic and being very emotional and being such a good listener," she said. "I love people so much, and their suffering, that to kind of inhabit them and vicariously live experiences and other peoples' situations was probably the most creative and healthy thing to do, rather than just living, living the role. Does that make sense? I don't think it came out right."
Davidovich will definitely get to play a gamut of emotions as Laurel's mother, who is caring and kind but also seems like she might have secrets of her own. In fact, on HTGAWM that's practically a guarantee. She seems to want the best for Laurel and the baby, but her relationship with her daughter also appears to have some deeply rooted problems that they never fully dealt with. There's so much that fans don't know about Laurel's family, and having both of her parents around again means anything long-buried might come to light soon.
It looks like Mrs. Castillo will continue to be a presence in Laurel's life for the foreseeable future. That may mean they have a chance to work through the past and start to heal, but it could also mean that more drama is about to rear its head — as it usually does on this show.
Check out Romper's new video series, Romper's Doula Diaries:
Watch full episodes of Romper's Doula Diaries on Facebook Watch.