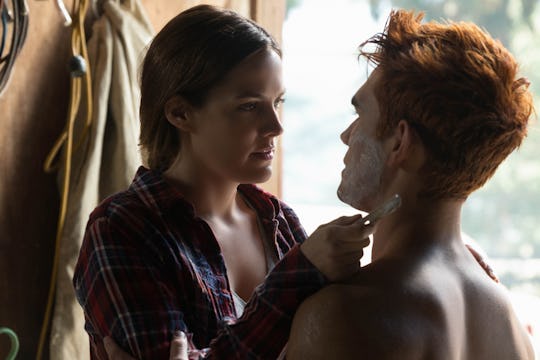 Cate Cameron/The CW
Riley Keough Is The Mysterious New Woman On 'Riverdale'
The mystery on Riverdale is ramping up, and with the introduction of a new character, things may get even more complicated for Archie. In Episode 7 of Season 3, "The Man in Black," fans will meet Laurie, a farm girl who is putting major moves on Archie. The actress looks awfully familiar, so viewers are wondering, who plays Laurie Lake on Riverdale?
Actress Riley Keough plays Laurie Lake, confirmed Vulture, and it may have had something to do with a tweet she sent out earlier this year. She is the granddaughter of music icon Elvis Presley, and she's starred in numerous films including The Good Doctor, Mad Max: Fury Road, and Paterno alongside Robert Deniro. But back in March, Keough tweeted that all she really wanted was to land a role on Riverdale. "I just want to be cast in Riverdale," wrote the actress, and it looks like her wish came true.
The exact nature of her role on Riverdale is still a mystery, but in the trailer for the upcoming episode, you can see the seductive predicament she puts Archie in. After he escapes from jail with the help of his friends, Archie is on the run from the authorities and the Gryphons & Gargoyles game master, the Gargoyle King. Jughead planned the elaborate escape and is now helping Archie find a safe place to stay until Veronica finds evidence to exonerate him. Jughead and Archie end up at a remote farm — not to be confused with "The Farm" cult — where they meet Laurie Lake, a seemingly simple farm girl. But when she offers to give Archie a shave, she gets a little too close and ends up seductively sitting on his lap.
The whole thing may seem innocent enough in the trailer, but in a tweet this week, Riverdale showrunner Roberto Aguirre-Sacasa posted a picture of Laurie standing behind Archie with the razor to his neck. "Archie, in the history of bad ideas, this may be your worst one," Aguirre-Sacasa captioned the photo. "LOTS of close shaves in this week's AMAZING episode of #Riverdale." This could hint that Laurie is a lot more than just a romantic distraction for Archie, and fans may end up seeing more of her down the road.
But Laurie Lake's character wasn't really prevalent in Archie Comics, so it's hard to predict what kind of role she'll play in the grand scheme of things. According to Comic Vine, she was actually a main character in Wilbur Comics, a 1940's comic book series that ran under the banner of Archie Comics. In the series, Wilbur was a young highschool teen (kind of like Archie), and his main love interest was Laurie Lake, a sensible blonde who had Wilbur wrapped around her finger. It will be interesting to see how her character is written into the show and what, if any, part she plays going forward.
So far, all fans have to go on is a vague description of her character. As reported by Vulture, on Riverdale, Laurie is an "all-American farm girl" who gives Archie and Jughead shelter after they wander on to her farm. But while her hospitality seems warm and flirtatious at first, she ends up putting the two into "more danger than they could have imagined." While that description doesn't imply an obvious love triangle, it does add to the intense mystery on the show. I guess fans will just have to wait to see how things unfold.
New episodes of Riverdale air Wednesdays at 8 p.m. ET on The CW.
This first-time mom wants to have a home birth, but is she ready? Watch how a doula supports a military mom who's determined to have a home birth in Episode One of Romper's Doula Diaries, Season Two, below. Visit Bustle Digital Group's YouTube page for the next three episodes, launching Mondays in December.