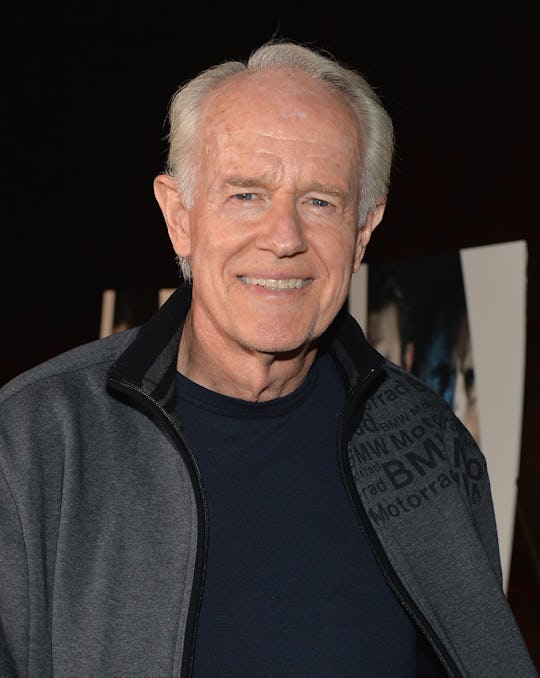 Alberto E. Rodriguez/Getty Images Entertainment/Getty Images
The Actor Who Portrays Lee Miglin On 'Versace' Has An Impressive TV Background
On the new season of American Crime Story, the series takes a look into the assassination of fashion designer Gianni Versace and the man who killed him, Andrew Cunanan. As the show moves backwards in time, the audience learns more about Cunanan and his other victims, one of whom was reported to be Lee Miglin. So who plays Lee Miglin on The Assassination of Gianni Versace? You may very well recognize him from his previous works.
Mike Farrell was cast to play the role on the show, but it's far from being his first TV role. Farrell has been in the entertainment industry since the '60s and is most well known for his role as Capt. B.J. Hunnicutt in the popular TV series M*A*S*H. Farrell even earned two Emmy nominations for his part in the series. Prior to finding success on M*A*S*H, Farrell had a number of roles on various TV shows in the '60s and '70s, including Lassie, I Dream of Jeannie, Days of Our Lives, The Bill Cosby Show (not be confused with The Cosby Show), The Interns, The Man and the City, The Sixth Sense, and many others.
Farrell also had plenty of roles in TV movies like The Longest Night, She Cried Murder, The Questor Tapes, Live Again, Die Again, Ladies of the Corridor, Sex and the Single Parent, Letters from Frank, Prime Suspect, as well as a number of others.
Following M*A*S*H, Farrell stuck with TV and appeared in shows like Murder, She Wrote and Matlock. He additionally nabbed a recurring role on Superman as Jonathan Kent and then starred as Dr. James Hansen in the family drama, Providence. He's also loaned his voice to a number of DC animated series, like Justice League, reprising his role as Jonathan Kent.
More recently, you may recognize Farrell from his roles in Desperate Housewives, Law & Order: Special Victims Unit, Without a Trace, Supernatural, Ghost Whisperer, and The Red Road. Over the years Farrell has done work on the big screen as well Some may know him from Out at the Wedding, The Killers Within, and/or Lockdown.
In his personal life, Farrell was married to actress-screenwriter Judy Farrell for 17 years before they split. He then went on to marry actress Shelley Fabares, who is most well-known for her role as Mary Stone on The Donna Reed Show. The couple have now been married for over 30 years. Farrell has two children from his first marriage, Michael and Erin.
When Farrell isn't acting, he supports a number of social and political issues globally. His main focus is on ending the death penalty and he was even the president of Death Penalty Focus, a nonprofit organization dedicated to the cause. However, he stepped down as president in 2016, to sponsor Proposition 62 in California, which would abolish the death penalty in the state and replace it with a life sentence without parole. The proposition was ultimately rejected with 53.6 percent of voters voting no. Regardless, Farrell hasn't given up the fight, and soon after the proposition failed he told Death Penalty Focus that "we just have to work harder."
If you want to learn more about Farrell's life and his work as an actor and activist, he actually wrote a book titled Just Call Me Mike: A Journey to Actor and Activist, which was published back in 2007. In it he speaks about his eight years spent on M*A*S*H and his five seasons on Providence as well as his "progressive activism." The memoir also became a Los Angeles Times bestseller.
It's great to see Farrell back on our TV screens again, and there's no doubt that we'll continue to see him, whether that in acting roles or fighting the good fight.
Check out Romper's new video series, Romper's Doula Diaries:
Watch full episodes of Romper's Doula Diaries on Facebook Watch.