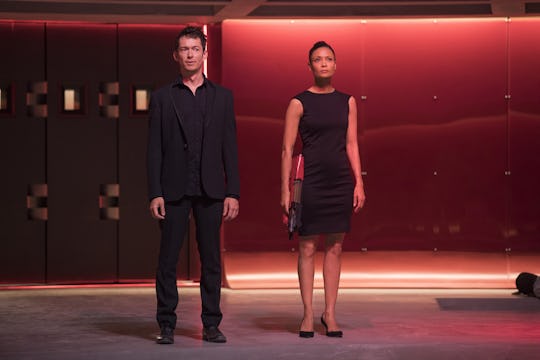 John P. Johnson/HBO
Lee Sizemore Falls Into Some Trouble In 'Westworld' Season 2
During the first season of Westworld fans were introduced to Lee Sizemore, an arrogant man who wrote the narrative's for park. Although Charlotte promised him Ford's job after Ford retired, it's clear that with the way the season came to an end, Lee probably won't be getting that job. Instead, he may have a bigger role to play in the war between hosts and humans. With Lee being pushed more to the forefront, you may be wondering who plays Lee Sizemore on Westworld?
British actor Simon Quarterman tackles the character and you may recognize him from his work in various horror films. Quarterman starred in the 2012 film The Devil Inside as Father Ben Rawlings and a year later he starred in director William Brent Bell's horror film, Wer, as Gavin Flemyng. Quarterman has also been in the movies The Scorpion King: Rise of a Warrior, Estranged, and Negative. Besides Westworld, the actor has also appeared in a number of TV shows, including Down to Earth, Swallow, Holby City, and Stitchers.
It's hard to know what this guy does when he's not busy working. He doesn't appear to have any kind of social media account and keeps his personal life pretty private, which is of course his prerogative.
It appears that his role in Westworld is Quarterman's first major role on a TV series and it's an intriguing part to play. At the end of Season 1, Quarterman's character, Lee, went looking for the host Peter Abernathy, only to discover all the hosts were missing. Of course, they were busy partaking in a massacre. When the series returns for Season 2, Lee, along with the other humans who work at Westworld, will be fighting for their lives as the hosts discover what it means to be conscious beings.
Besides that though, it's hard to know what exactly Lee will get into this season since the cast and crew are tight lipped about the new season. However, based on the press photos, it looks like Maeve has somehow taken Lee hostage, though for what purpose it's hard to say for sure. Perhaps she hopes to use Lee to find her daughter.
Though he wouldn't reveal too much about the new season, Quarterman did talk about Lee's role in Season 2 a little bit with TVLine. Apparently Lee's personality won't change too much in the second season and he'll still only see the host as "props for his story." Quarterman added that Lee is "ill-equipped" for the situation he finds himself in at the start of Season 2.
One thing that will change though is Lee won't be as concerned with his career and moving up the ladder. Instead, he'll be more focused on saving his own skin. Quarterman also revealed that while his character will still be the same person fans have come to know, that doesn't mean he won't change over the course of the season. "Anyone finding themselves in a situation such as this, and the challenges that they might face, are certainly forced to maybe look at other areas of themselves that might not really been been aware of," Quarterman told TVLine.
So maybe Lee will start to recognize the hosts as real people instead of just machines used for his own personal gain. Or maybe not. Either way, it'll definitely be interesting to see how he and Maeve end up working together, or rather, how Maeve ends up taking him hostage. Will he be able to get away from her or will he become controlled by her the way she, and the other hosts, were often controlled by him? You'll just have to watch to find out.
Check out Romper's new video series, Romper's Doula Diaries:
Watch full episodes of Romper's Doula Diaries on Facebook Watch.