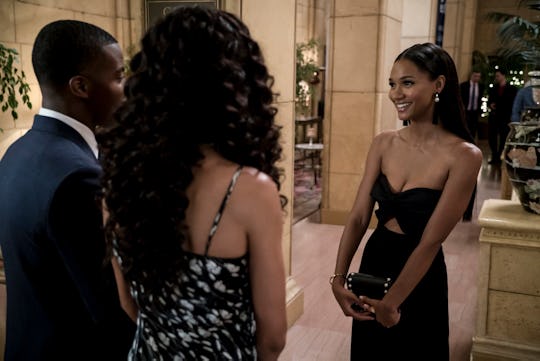 Jesse Giddings/The CW
The Most Popular Girl In School On 'All American' May Look Familiar
The latest TV drama named "most likely to cause all the feels" premiered last week on the CW. Inspired by former New York Giants linebacker, Spencer Paysinger, All American follows the life of high school student Spencer James (Daniel Ezra) as he's recruited to play football in an elite Beverly Hills high school far from South Crenshaw High in Compton where he grew up. The cast is stellar, and in a high school drama, there's bound to be a few who stand out for good reasons — and bad. So who plays Leila on All American? There's a reason she looks familiar.
According to IMBD, the most popular girl at the prestigious high school, Leila Faisal, is played by Greta Onieogou. You may have seen her as Aly in Heroes Reborn: Dark Matters, and other various roles over the years, but she's best known as best known for her recurring role as Soroya Duval on the drama Heartland. Her All American character is the daughter of a successful record producer (super relatable, am I right?), seems nice enough at first, but as things unfold, it's unclear if her actions and motivations will change. As for Onieogo herself, she's all over the web — if you're looking for her. Instagram photos show her posing in front of a lot of beautiful scenery, or with castmates. If you continue scrolling, you might stumble upon a photo where she's seen celebrating something called "Tom Hanks-giving" and whatever that is, I want in.
If you haven't seen All American yet, here's a brief recap. It begins with a glimpse of Spencer's world as an accomplished football player at Crenshaw High just before he's recruited by former NFL pro, Coach Billy Baker (Taye Diggs), to play for the Beverly Hills Eagles. Baker's intentions aren't exactly clear — because he's on the cusp of losing his job and desperately needs someone like James to keep him on top. With the support of his little brother Dillon (Jalyn Hall), hard-working mom Grace (Karimah Westbrook), and best friend, Coop (Bre-Z), Spencer lives a double-life, between where he came from and where he's going.
But when Spencer's school transfer is endangered, he moves in with Coach Baker and his family. Did I mention the coach's son, Jordan (Michael Evans Behling) is the star quarterback and pretty ticked he has to now compete for his father's attention? Luckily, Spencer has Baker's daughter, Olivia (Samantha Logan), to befriend him. So where does Leila come in? That's where it gets complicated, friends. Spencer has a crush on his new classmate, Leila, and obviously, her boyfriend, Asher (Cody Christian), isn't cool with it. Thus sets off Asher's only goal — to get Spencer kicked off the team and out of the posh school. Maybe Coach Baker will intervene? After all, his intent is to have Spencer as his newest star player. Although Diggs said of his complex character, "Sometimes Billy can be a little shady," so watch him with a dose of skepticism.
The story based on the true story of NFL's Paysinger is sure to pull at your heartstrings. As for Onieogou, the Russian-born actress moved from St. Petersburg to Toronto, Canada when she was 5 but says she still has family in her birthplace. She confessed in a fan-led Heartland Q&A awhile back that she's also fluent in Russian, was once a rhythmic gymnast who worked with Olympian, Alexandra Orlando, and if she could do anything else, it would still be in the film industry "even if it meant running around getting people coffee."
Honestly, I don't think she'll ever have to worry about that. You can catch new episodes of All American on the CW Wednesdays at 9 p.m. ET.