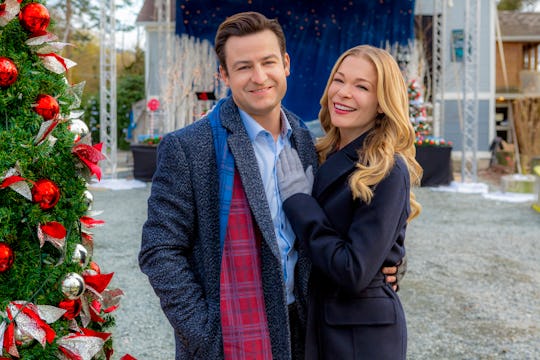 Hallmark
Meet The Talented Actor Opposite Leann Rimes In 'It's Christmas, Eve'
It's November which means anyone and everyone is technically allowed to begin holiday festivities. Whether that means grabbing the Christmas tree from the attic, baking five dozen gingerbread men, or saddling up for all 36 original Hallmark Christmas movies, you have my permission to go forth without guilt. Speaking of holiday films, Nov. 10 marks the official air date for the channel's fifth festive movie, starring LeAnn Rimes. But, who plays Liam on It's Christmas, Eve?
According to the official Hallmark bio, the Canadian-born actor, director, producer, editor, writer and musician, is Tyler Hynes. He's been performing since he was 8 years old and got his big start as Tommy in the rock musical, The Who's Tommy. By 13, Hynes was basically everywhere. The "bigger" credits began around 18 when he landed a role opposite Andie MacDowell and Tim Roth in The Last Sign, and then with James Franco and Sienna Miller in Camille. If, for whatever reason, he reminds you of a smug Ivy Leaguer, it's because he played one as first-degree murder suspect, Patrick Walker, on NBC's The Firm (based on John Grisham's novel). That's how you know he's a good actor, BTW, because he's the polar opposite of that role. Aside from that, he's been cast in quite a few other shows. Seriously — check out his resume via IMBD because that'll be faster than me endlessly listing his impressive credits. Go on; I'll wait.
Based on Hynes's social media presence, he's a multi-faceted artist. His Insta features plenty of beautiful scenery, collages, and polished and posed pictures, but at the core, you can still see the originality. Whether it's posing with an adorable dog, helping kids brush their teeth, posting his creative works, or just being generally awesome, it's easy to see why Hynes captured Hallmark's eye again and again (he was literally just in another Hallmark movie, Falling For You, alongside Taylor Cole).
Now, Hynes graces the Hallmark channel to get you in the holiday spirit. In It's Christmas, Eve, interim school superintendent, Eve, is tasked with trimming the budget (not an easy ask). Unfortunately, that means cutting her adorable neighbor's music program. Obviously this poses a few problems but Eve's in luck — she has a friend in IT who makes a website aimed at saving the arts through donations. Liam's music students get to perform at the town's tree lighting ceremony and, of course, Eve starts to get that loving feeling and maybe, probably, the two have already begun a new tradition. You know — as a couple. Don't worry; this isn't a spoiler because the entire Christmas movie block is all about finding love and hope while in the midst of holiday shenanigans. That's what makes them do deliciously watchable.
Hallmark is known for the feel-good movies this time of year and this one's no different. In fact, Rimes wrote three original holiday songs to accompany the movie, and two of them — "It's Christmas Eve" and "You and Me and Christmas" — she sings in the movie. Do you copy? LeAnn. Rimes. Sings. In. The. Movie. That should be enough to tune in. The network weighed in with Michelle Vicary, Crown Media Family Networks' executive vice president saying, "LeAnn Rimes is such a multi-talented artist, and we have wanted to work with her for years. Our viewers are in for a treat as LeAnn is the lead in a Hallmark Christmas movie and has also penned beautiful original songs that she sings in the film." I can't help but wonder, will Hynes sing in the film, too? He can do everything else, so I wouldn't discount it.
Now that you've been properly introduced to Liam on It's Christmas, Eve, follow along with everything Tyler Hynes does (not in a creepy way). Whether it's through social media or any of his other million talents, something tells me he's one to watch.