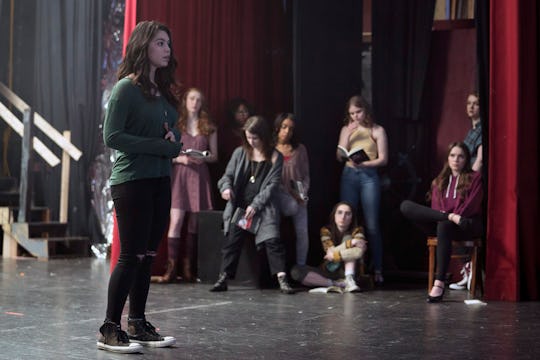 Peter Kramer/NBC
There's One Good Reason For Fans Of Disney To Watch NBC's New Series 'Rise'
NBC is adding a musical drama to the network TV slate this spring and it comes from the showrunner of Parenthood and Friday Night Lights as well as the producer behind Hamilton. Rise tells the story of a working class high school's lackluster theater department, which suffers from a lack of funding and enthusiasm thanks to the school funneling all its resources into its football program. Enter Lou Mazzuchelli, a drama teacher who inspires a talented group of kids, including Lilette Suarez, to polish their talent. So who plays Lilette on Rise? Auli'i Cravalho is trading in her bright, poppy Disney sound for a more sultry and soulful character.
You may recognize her name from the Disney film Moana, in which she voiced the titular character and Disney's first Pacific Islander princess. Cravalho herself is of Native Hawaiian, Puerto Rican, Portuguese, Chinese, and Irish descent, and the decision to cast a Native Hawaiian teen as Moana was one for which Disney got a lot of praise. It'll be exciting to see her tackle a Latina character next, and get a chance to represent that part of her identity, too.
Moana was Cravalho's breakout role — one she got by auditioning at the very last minute after initially deciding the competition was too stiff. From the looks of the Rise trailer, Lilette will only stretch her further as an actress.
Of course, the connection between her two big projects is obvious: she played Moana, for which Lin-Manuel Miranda wrote the music, and now she's on a show co-executive produced by Jeffrey Seller, who produced Hamilton, which Miranda also wrote and starred in. Would an LMM guest appearance be outside the realm of possibility? We can keep our fingers crossed.
The Hollywood Reporter boils down Cravalho's character Lilette as "a girl from the wrong side of the tracks," which naturally makes her a shoe-in to take over as the lead in Spring Awakening when Mr. Mazzu overhauls the theater department. Snatching control of the musical production away from the regular drama teacher, played by Rosie Perez, he scraps Grease in favor of Duncan Sheik's angst-filled pop-rock musical about burgeoning adolescent sexuality. He recasts a bunch of raw talent as the leads in favor of the standby musical theater kids, and voila! A more complex theater department and production is born.
In the trailer, we see that Lilette has to work a burger-flipping job, presumably to help support herself within her struggling family. Her cynical, downtrodden mom is obviously less-than-enthused about Lilette's newly invigorated dreams of becoming a performer. But as soon as she belts out a few smoky notes of "Mama Who Bore Me," Mr. Mazzu knows he has a star on his hands.
"Part of me was able to relate to her pain, and her mother who just wanted the best for her," said Cravalho at a Television Critics Association presentation of the show last winter, according to USA Today. She also reportedly expressed excitement about getting to perform in front of the camera this time instead of hidden away in a recording booth.
Considering how heavily the new series was promoted during the Super Bowl and the Olympics, NBC obviously has a lot riding on its success. And since it comes from one of the network's most iconic showrunners, fans of Jason Katims' other shows are sure to want to tune in. The tone of his work is instantly recognizable and the trailer alone definitely has strong FNL/Parenthood vibes. Rise premieres on March 13.
Check out Romper's new video series, Romper's Doula Diaries:
Watch full episodes of Romper's Doula Diaries on Facebook Watch.