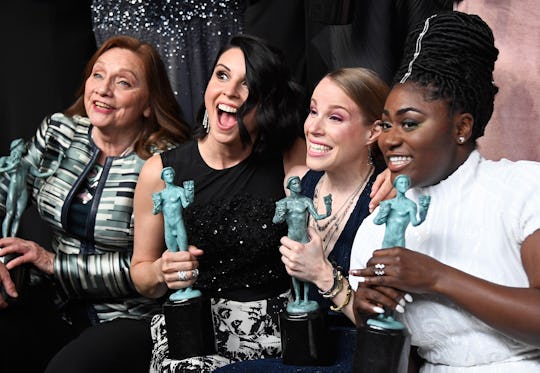 Frazer Harrison/Getty Images Entertainment/Getty Images
Linda From 'OITNB' May Look Very Familiar
By far, the most evil character on Orange is the New Black is Linda Ferguson, the purchasing director for MCC, the corporate owners of Litchfield. She's only set foot in prison just once — while a riot was happening, and she didn't even flinch. It's easy to hate her on the show, but the actress who plays Linda on Orange is the New Black is actually pretty awesome in real life. Which is likely why she's able to play such a tough, heartless woman on the show. That takes talent.
Beth Dover is a comedic actress and you might recognize her from shows such as Another Period, Children's Hospital, Adult Swim's Newsreaders, and Wet, Hot American Summer. She's also had small parts on Comedy Bang Bang and New Girl. In addition to all of her acting roles, you might have also seen her walk a red carpet with her husband, Joe Lo Truglio, who plays Boyle on Brooklyn Nine-Nine. Between the two of them, they probably never stop laughing.
Dover was stoked to be part of Orange is the New Black. She told The Gloss just before Season 4 premiered, "I am SO excited about the new season! It's one of those things I auditioned for and I thought it was going to be just one episode and I just wrapped the 7th episode for Season 4." She also added that she was "excited the way the character is going and it's very cool to be a part of a show that I'm also a fan of." So maybe Linda gets to be more likable in this upcoming season, or Caputo will finally show her that prisoners are, you know, human beings.
As much as you may dislike Linda's character's on Orange is the New Black, Dover said she's at her best when she's playing someone totally different from herself. She said of her character on Newsreaders, which ended in 2015, "there are definitely characters I have brought more of myself to, this is not one of them, just because she is just so outrageous and so out there. So that's a lot of fun for me, to just completely be another kind of character."
Dover added: "And that's also why, you know, we get away with some of the really extreme jokes and stuff we make. It's clearly not us saying it, it's not our view. These like asinine views; they're the views of these idiot characters."
It's likely she feels the same way about Linda. Let's just hope she doesn't break Caputo's heart this season.