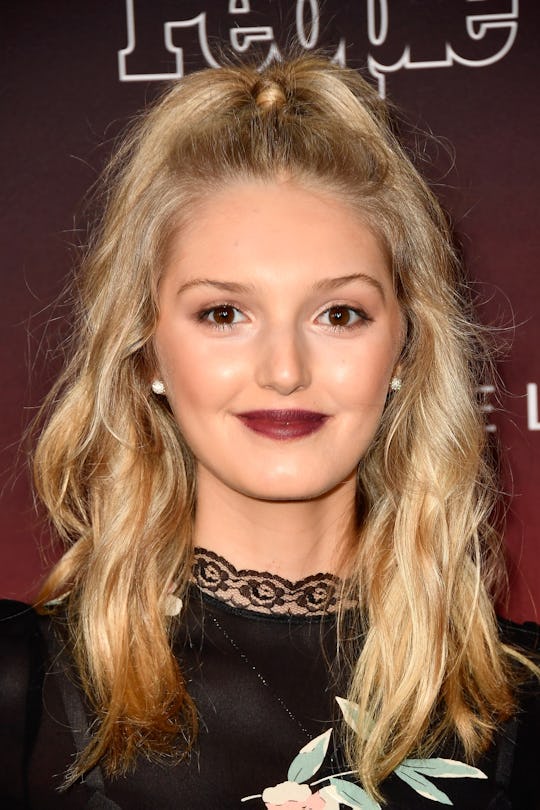 Frazer Harrison/Getty Images Entertainment/Getty Images
Here's Where You've Seen Lisa From 'A Father's Nightmare'
It's always fun to see familiar faces pop-up in Lifetime movies, and as far as TV movies go, the network seems to nab some pretty big names. Kristen Wiig, Will Ferrell, and Reese Witherspoon have all acted in a Lifetime movie or two. Now the network's newest thriller, A Father's Nightmare, features a face that has people curious. Who plays Lisa on A Father's Nightmare? Because the young actress looks pretty familiar.
In A Father's Nightmare 17-year-old actress, Kaitlyn Bernard, plays Lisa, a college student who is entangled in a manipulative relationship with her roommate, played by Jessica Lowndes. Bernard might look familiar thanks to her work on the Stephen King thriller, 1922 on Netflix. In that movie, Bernard played Shannon Cotterie, 14-year-old pregnant girl dating the son of the family. Bernard has also been in a variety of other TV movies and series throughout the years, including R.L. Stine's The Haunting Hour and The Healer.
She's got a lot of work under her belt for someone still in their teens, but it's probably because she began acting when she was just three years old. In an interview with Naluda Magazine last year, Bernard revealed that she started acting with musical theater, and was later drawn to film. "I started doing a lot of training specific to film and television, and luckily my career started to develop organically from there," she told the outlet. "I booked a number of student films, then smaller roles on TV, followed by lead roles in feature films."
Bernard also explained that she has developed the thick skin she needs to succeed in the acting business. "I love acting and over the years have really learned to manage the ups and downs that go with this industry," she said. "I'm fully committed to acting as a career choice long term, so I know that handling the good with the more challenging parts of being an actress is important."
For her role as Lisa in A Father's Nightmare, Kaitlyn had to portray a young, vulnerable college student, who has suffered an accident that resulted in the death of her mother, and is now being emotionally manipulated. In an interview tweeted by the film's producers, Sepia Films, she talked about the intense emotional and physical acting that went into the role. "Lisa's gone through a lot," Bernard said. "And she really falls under the influence of Vanessa, and it's really interesting to see the manipulation and control that she has on her — I feel like it's going to be super super heartbreaking for the viewers to see how much Vanessa corrupts her."
After watching the preview of A Father's Daughter, I admit I do feel heartbroken for both Lisa and her dad. The film follows Lisa on a downward spiral as she gets manipulated by Vanessa to continue down a self-destructive and self-loathing path. Lisa's father realizes that Vanessa has control over his daughter, and is to blame for her self-damage, but doesn't know how to pull her out of it. In one clip, Lisa is crying out about wanting to die, and Vanessa's only words of advice are that dying could be "another solution." But Vanessa's coaxing isn't just mean, it comes with the diabolical charm of a serial killer, which is why this movie looks like it will be such a gripping thriller.
A Father's Daughter is airing as part of Lifetime's "Summer Escapes" movie series , and will premiere on Sunday, July 22 at 8 p.m. ET.