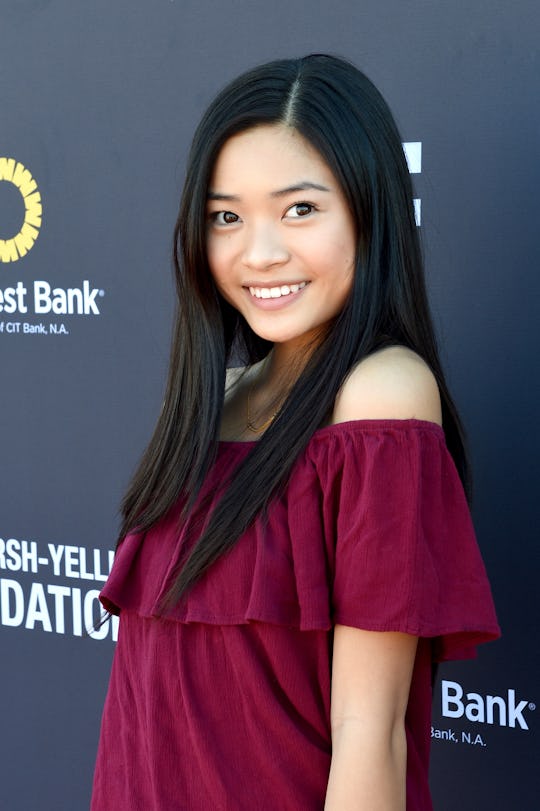 Joshua Blanchard/Getty Images Entertainment/Getty Images
Who Plays Lola On 'Fuller House'? Ashley Liao Is Ramona's Best Bud
You may have seen her in a few episodes of the first season of Fuller House, but Ramona's best friend, Lola, seems to be popping up a lot more often this time around. But who plays Lola on Fuller House? Ashley Liao may be relatively new to the acting world, but she's already making a big splash with this Netflix role. But there's still a chance you may recognize her from previous gigs, such as the TV series The Kicks, Fresh Off the Boat, or Bad Teacher. But whether or not you've seen her in action before now, it's clear that Liao was made for this part.
Much like we saw in Season 1, Lola is the main object of affection for D.J.'s eldest son, Jackson, who pretty much fell in love with her at first sight. And nothing seems to have changed throughout Season 2. (Warning: This post contains spoilers from Episode 1 Of Fuller House.) Jackson is still eager to impressive Lola in any way that he can. In fact, he even decides to go out for the football team, thinking that she would be impressed and therefore finally want to date him. (Ah, teens and that crazy logic of theirs.)
However, D.J. is immediately concerned that her son — who is already very accident prone apparently — will end up seriously hurting himself due to the general nature of the game. You know, considering that getting tackled isn't exactly a gentle thing to experience. So Kimmy quickly comes in for the save (as only Kimmy could do) and gets Lola to tell Jackson that he doesn't need to play football in order to impress her. And, as you can imagine, it doesn't take much for Jackson to agree to quit the team.
Granted, these two still have a long way to go before they will ever be an official item (if they will ever be an official item), but I haven't given up hope yet. Jackson is really sweet and I'm sure it won't take Lola too much longer to figure that out and start seeing him for the great guy that he is. But in the meantime, at least Jackson is safe from harm, at least physically. Emotionally, however, that's up to Lola.
But in the meantime, it's great to see that her friendship with Ramona is just as strong as ever. Maybe in time they'll eventually become the new D.J. and Kimmy? Who knows, but I'm looking forward to seeing how Liao's character develops throughout the remainder of the season.