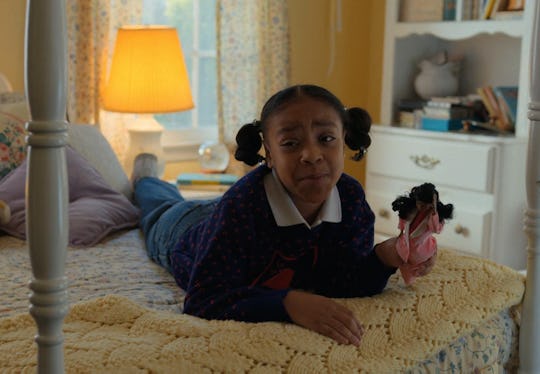 Netflix
Lucas' Sister Erica Is The 'Stranger Things' Character You Never Knew You Needed
Stranger Things Season 2 introduced a lot of new characters, but there was one stand-out who we really should've met last season. This season the show expanded on Dustin and Lucas' home lives, showing their families, and it turns out Lucas has a little sister named Erica and she had a lot to say. So who plays Lucas' sister, Erica, on Stranger Things? Priah Ferguson took on the sassy little sister role perfectly.
Erica was first introduced in "Chapter Two: Trick or Treat, Freak," where she called out Lucas for wearing a "nerdy" Ghostbusters costume to school for Halloween. Immediately, Ferguson stole the show with this hilarious one liner and continued to be a pain in Lucas' side, but perfect comic relief for viewers, throughout the season. Plus, Erica turned out to be right since Lucas and his friends were the only ones who wore their costumes to school.
If Ferguson looks a bit familiar to you, that's probably because this isn't the first time she's been cast in a TV series. The Atlanta, Georgia native had a small role on Donald Glover's Emmy-nominated series Atlanta, and also appeared on Daytime Divas. She's also popped up on Mercy Street, BB Brown & Friends, and Cream X Coffee. You can next see Ferguson in the Indie film La Vie Magnifique De Charlie. However, after her incredible work on Stranger Things, I wouldn't be surprised if she started showing up more and more on both the big and small screen.
If you're just as obsessed with Ferguson as I am, you can follow her on Twitter and Instagram to stay up to date with all her forthcoming projects. Right now though, she's just celebrating her current success from Stranger Things, and rightly so.
Throughout the season, Erica continued to shine, as she didn't give anyone a free pass, especially not her brother or his "annoying" friends. For instance, when Dustin used the walkie talkie to try and get in contact with Lucas, Erica wasn't having it. "Will you please shut up?" she asked, fed up with the nuisance that was Dustin just looking for his friends. Of course, she also was in no mood to help him, and immediately shut Dustin down, letting him know she had no idea where her brother was and didn't care in the slightest.
She then taught him the new "shut your mouth" code before turning the walkie talkie off. Naturally, she then didn't remember to tell Lucas about this whole encounter until much later, because she was clearly unbothered by whatever her nerdy brother and his friends were getting into.
Erica also wasn't impressed when Lucas got upset with her for taking his action figure. Instead, she hit him with the perfect amount of shade, questioning him about being too old to be playing with dolls anyway. Obviously, Lucas forgot who he was dealing with when he tried to tell her to stay out of his room. Erica will not be talked down to by anyone, especially not her brother.
Although this season also introduced Lucas' parents, it was clear that Erica was the one who really ran the household. Even when her mother tried to tell her she had enough syrup on her french toast, Erica didn't stop until her mother hit her with a death glare, and by then Erica already got the proper amount of maple-y goodness she wanted. Hopefully, there'll be even more of Erica and her sass in Season 3, because Ferguson fully delivered with this character, making Lucas' little sis a new fan favorite.
Watch Romper's new video series, Romper's Doula Diaries:
Check out the entire Romper's Doula Diaries series and other videos on Facebook and the Bustle app across Apple TV, Roku, and Amazon Fire TV.