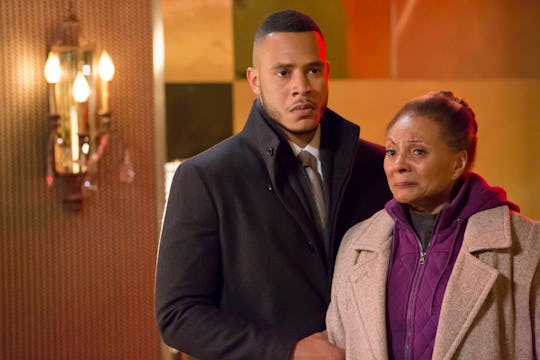 Chuck Hodes/FOX
Who Plays Lucious Lyons' Mom On 'Empire'? Leslie Uggams Has An Impressive Career
Deadpool fans may recognize the actress who plays Lucious' mom on Empire as "Blind Al," the no-nonsense, tough as nails roommate of Wade Wilson (played by Ryan Reynolds). But Leslie Uggams has been in the business since the age of six, and her many accolades barely do her sweeping career justice. The 72-year-old actress has won a Tony and a Daytime Emmy, with Primetime Emmy and Golden Globe nominations under her belt, too, for her performance in the prolific 1977 miniseries Roots. She was also the first black woman to have her own variety show on CBS in 1969. Basically, Empire is the perfect home for this musical performance legend.
Her first big break was a gig at The Apollo, which she scored at the tender age of nine. Her co-stars on that gig? Louis Armstrong, Ella Fitzgerald, and Dinah Washington. Uggams told People of working with the legends:
"Off the stage, they embraced me and my mother because my mother was always with me. I spent time at Louis' home, it wasn't just working at the Apollo, we were part of the family for a while. With Ella she just loved me and she was always trying to feed me, I worked with her in the summertime so inevitably when the ice cream truck would come along she'd buy me ice cream. And Dinah was a whole different thing because she was an extraordinary performer and she embraced me off the stage as well."
She also landed a record deal at 15 after a performance on Name That Tune, and later attended Juilliard. Oh and, by the way, she counted Sammy Davis Jr. a close personal friend, and then there was this little duet she sang with Frank Sinatra in his 1977 special Sinatra and Friends.
And, as if her storied career with the previously mentioned legends wasn't enough, she even performed with The Beatles once while Bob Dylan was hanging out backstage. She told People the performance was so electric, she couldn't even remember what she sang:
"To tell you quite frankly, it was one of those moments where you are having an out-of-body experience, because you're seeing all these teenagers, it looked like the balcony was moving because there were so many people. This is The Beatles — you couldn't even hear what they were singing because people were screaming so loudly. I thought to myself, 'I'm making history here.'"
In spite of her huge success, she continues to be conscious of the struggle women of color face in Hollywood, counting Viola Davis (another former co-star and friend) among her favorite activists:
"Compared to when I started, it's a big, big wave of change. You didn't see a lot of us being represented on the screen. And if we were, it was as a maid and we'd have a rare actress, like Dorothy Dandridge when she did Carmen Jones, that was like 'Oh my God, she's starring!' It's come a long way compared to when I started out, but that doesn't meant that we are where we should be. Women-wise, you hit a certain age and all of a sudden you're not the leading person anymore. We're still fighting that kind of battle."
Lee Daniels and Danny Strong may never top this guest star.