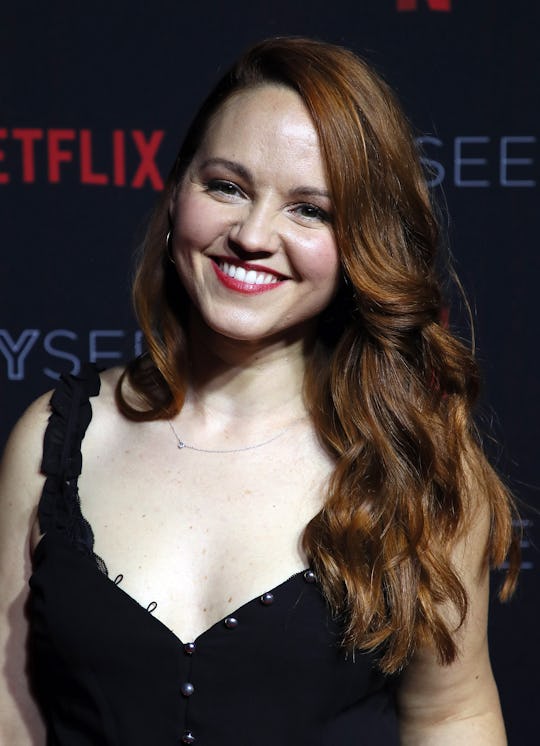 David Livingston/Getty Images Entertainment/Getty Images
Mackenzie Is Joining The Ranks Of Liberty High On '13 Reasons Why'
The second season of 13 Reasons Why will introduce a number of new characters to Liberty High. One of those newbies is Mackenzie, an artsy and witty girl who isn't afraid to speak her mind. So who plays Mackenzie on 13 Reasons Why? Chelsea Alden is gearing up to make her Season 2 debut.
You may recognize Alden from her recent roles on the series The Ranch, Grey's Anatomy, NCIS, Veep, Speechless, and American Horror Story. She also starred in the YouTube series Blake & Emily Get Famous, Get Spy, and The Online Gamer. Additionally, she took part in the web series, Red Scare. Earlier in her career Alden also had roles on Grounded for Life, iCarly, Unintentionally Awesome, White Crime, The Mentalist, Bona Fide, Jane the Virgin, American Crime Story, and About a Boy.
Alden has appeared in a number of films as well, including Unfriended: Dark Web, The Tale, Where's the Money, Face 2 Face, and Pause. She's also done a number of short films like The Human Project, Almost Fifty, Replacement Protocol, I'll Be Waiting, You and Me Now, Hiccup, Apartment for Rent, Camaro, Therapy, and Halloween Avenue. Following 13 Reasons Why, Alden can next be seen in the short film The Human Project, which she produced and is currently on the film festival circuit. It appears her role on 13 Reasons Why is her first major role on a TV series, though.
According to the bio on her website, Alden got her start performing in local theatre in Southern California and doing national commercials. She then briefly lived in New York City where she attended the Professional Performing Arts School, before her family moved back to Los Angeles.
When she's not busy acting or producing, Alden is all about spending time with her friends, family, and beau Mike Schuppan. She also enjoys attending ice hockey games and traveling. However, while there's plenty to know about Alden, there isn't much known about her character on 13 Reason Why. Besides the fact that she's artsy and brave, all that's known about her is that she has a brother named Cyrus (Bryce Cass), who's also joining the show this season. Cyrus is described as being an "edgy, cynical mischief maker." Thus, it does seem like she and Cyrus will be hanging with the same crowds, but then again you never know.
Outside of that, Mackenzie is a bit of mystery. It's unclear if she's a new student or was always at Liberty High and fans just didn't get to meet her last season. In either case, it'll be interesting to see how she plays into everything going on. When the first season came to a close, the court case between Hannah's parents and the school was only just getting started with everyone who was on the tapes being called in to give their side of the story.
Now with the trial in full swing, it wouldn't be surprising if other students are pulled into it. Additionally, based on the trailer, it's clear that a lot of what was revealed on Hannah's tapes is finally coming out, which could hopefully result in Bryce paying for his horrific actions. In the trailer, Clay is seen picking up a Polaroid, which says on the back, "Hannah wasn't the only one," which seems to hint that Bryce may have even more victims. Could Mackenzie be one of those victims, or worse, could she become one? Hopefully not, but 13 Reasons Why is always full of surprises and unfortunately Bryce hasn't been arrested or suspended. At least, not yet.
The only way to find out what happens with Mackenzie and the rest of the students at Liberty High is to watch the new season of 13 Reasons Why, which is now streaming on Netflix.
If you or someone you know are experiencing suicidal thoughts, call 911, or call the National Suicide Prevention Hotline at 1-800-273-8255.