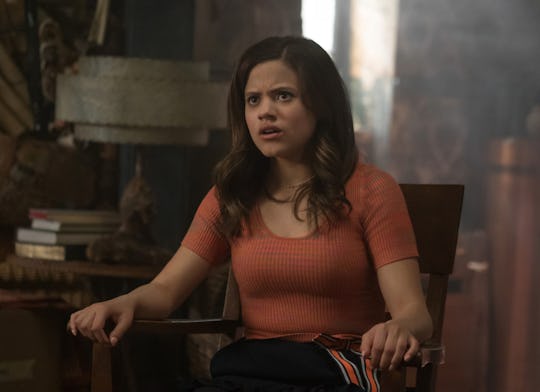 Katie Yu/The CW
Maggie Is The Youngest Sister On 'Charmed' And She's Can Read Your Mind
When fans of Charmed learned that the series was getting a reboot without the original cast, they were anxious to find out who would be playing the "Charmed Ones." The new witch sisters — Mel, Maggie, and Macy — are just as bold and fierce as the Halliwells, and fans are wondering who will be cast as the youngest mind-reading sister. So who plays Maggie on the Charmed reboot?
Canadian actress, Sarah Jeffery plays the role of Maggie Vera, the younger sister of Macy Vaughn (Madeleine Mantock) and Mel Vera (Melonie Diaz). The 22-year-old has been in the industry for years. You may recognize her from her role as Princess Audrey from Disney's Descendants, or from her recent recurring role as Jennifer Lopez's daughter, Christina Santos on Shades of Blue.
In the Charmed reboot, Jeffery's character Maggie is a college freshman who is planning on rushing a campus sorority while juggling an on-again/off-again relationship with her boyfriend, Brian (Charlie Gillespie.) In a promo for the series, fans can see Maggie discover her newfound powers. When she introduces herself to the sorority, she begins to hear condescending voices in her head. "She's rushing the sorority and she really wants to get in, and she starts hearing these thoughts," Jeffery says in the promo. "She eventually learns that she can really read minds, and is very conflicted about that. It doesn't really fit into her idea of a perfect life." While Maggie's abilities are similar Alyssa Milano's character, Phoebe, from the original Charmed series, her reluctance to accept them makes her character completely different.
According to a CW synopsis, when Maggie's mother, Marisol, dies in a tragic and mysterious way, her mind-reading abilities emerge. Under the supervision of their "Whitelighter" Harry Greenwood, the sisters learn of their powerful heritage, and "must stand together to fight the everyday and supernatural battles that all modern witches must face: from vanquishing powerful demons to toppling the patriarchy."
Fans have been on the fence about seeing their favorite show rebooted without any mention of the original characters, cast, or story line. But the show runners — Jane the Virgin producers Jessica O'Toole, Amy Rardin and Jennie Urman — have been vocal about their desire to give the reboot a completely new storyline. In an interview with Muse TV at San Diego Comic con this summer, Urman revealed that the reboot would include certain Charmed elements like the power of three, the book of shadows, and Whitelighters, but would put a different spin on them.
"They're going to be different versions of that, because you wouldn't want to do the same exact thing, because that exists as a complete series," said Urman. "We're definitely pulling a lot from their mythology and the great demons that they had, and some of the various star-crossed love stories. My goal is that it pays homage to the original, while becoming something of its own."
Urman also discussed how the modern movement towards women's empowerment inspired her to tell the new Charmed story with a stronger feminist voice. "It's a show about female empowerment and the ability of women to change the world," she told Muse TV. "This is the moment where you want to see really strong empowered women kicking ass and — and that was sort of the excitement from us behind it." So, from the looks of it, the new Charmed is going to tell empowering female stories, and the new "Charmed Ones" will be just as strong and inspiring as the originals.
The Charmed reboot premieres on Sunday, Oct. 14 at 9 p.m. ET on the CW.